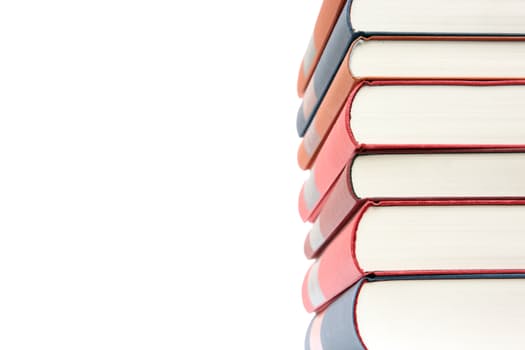 If you've started to prepare for the GMAT, you've probably noticed that there are dozens of different GMAT books on the market. As you're deciding what to buy, it's important to understand what makes a good GMAT prep book, so you're not wasting your time and money on a tool that won't help you.
In this guide, we'll talk about what makes a good GMAT prep book and then give recommendations about the eight best GMAT prep books for a range of circumstances. We'll also discuss other GMAT prep resources and talk about how to choose the right book for you.
What Makes a Good GMAT Prep Book?
A good GMAT test prep book will help you get a higher GMAT score with realistic practice and rigorous content review. As you're deciding which book to purchase, consider the following qualities that make a prep guide stand out from the rest.
Realistic Test Questions
It's extremely important for your book to have realistic test questions. GMAT questions are written in a very specific style. Having realistic practice questions helps you familiarize yourself with the style of these questions and practice the skill sets you really need to do well on the test. Practicing with unrealistic questions will waste your time and may lead to you developing strategies that won't help you on the test or worse, will lead you to wrong answers.
The best sources of realistic GMAT practice questions are the official GMAT guides and prep software. You can also get questions that closely resemble actual test questions in solid GMAT test prep books, though they'll never be as good as the official practice questions.
Not sure how or what to study? Confused by how to improve your score in the shortest time possible? We've created the only Online GMAT Prep Program that identifies your strengths and weaknesses, customizes a study plan, coaches you through lessons and quizzes, and adapts your study plan as you improve.
We believe PrepScholar GMAT is the best GMAT prep program available, especially if you find it hard to organize your study schedule and don't want to spend a ton of money on the other companies' one-size-fits-all study plans.
Comprehensive Answer Explanations
While virtually all GMAT books offer answer keys, the best GMAT prep guides will have answer keys and comprehensive, detailed explanations of why each answer is correct. Thorough answer explanations will help you understand the skills and strategies you need to do well on the test. 
In fact, we think this is so important that PrepScholar GMAT's online course offers thorough answer explanations for each of our over 1,000 practice questions that explain not only why the correct answer works but also why each incorrect answer doesn't.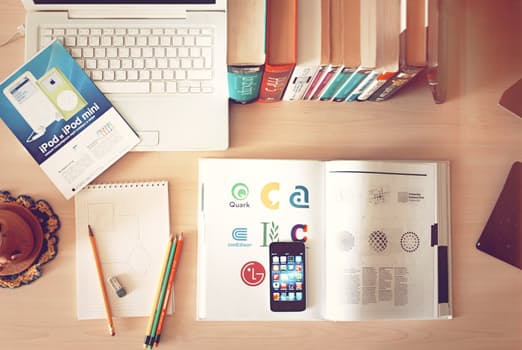 Full-Length Practice Tests
Taking full-length practice tests is one of the best ways to make sure that you're getting a realistic GRE prep experience. The GMAT is a long test. It's important to build up your stamina by practicing the test in its entirety, so you don't get fatigued on test day. Think of it like a marathon. A marathon runner would never go out and run without doing some long training runs. As a GMAT test-taker, you should build up your endurance by taking full-length practice tests, too.
Because the GMAT is a computer-based test, taking computer-based practice tests is the best possible option to realistically simulate test day. Good GMAT books will often include the ability to access online practice tests and test question banks.
Useful Test-Taking Strategies
The GMAT is a unique test. In addition to building your knowledge of the content covered on the exam, it's important to build an internal bank of test-taking strategies that you can rely on during the test. These strategies may have to do with time management, quickly eliminating wrong answers, identifying question types, making educated guesses or other skills. Having these skills will help you save time and quickly get to the correct answer on test day.
Clear Review Sections
The best GMAT books help you learn about the content that's covered on the exam.  The book should have clearly defined review sections that help you build your skills in different areas. For instance, the book may contain a chapter on sentence correction questions, with lessons to build your knowledge and drills to build your skills. The explanations in these chapters should be logical, easy-to-understand, and followed up with exercises or questions that test your knowledge.
While good GMAT prep books don't have to have all of these qualities, they should have at least one or two specific purpose and strengths that will help you achieve your GMAT goals. Now that you know more about the criteria that makes a good GMAT book, let's take a look at eight examples.
The 8 Best GMAT Prep Books
I've reviewed the eight very best GMAT books below. For each, I explain what it includes, what is especially good about it, what drawbacks you should be aware of, and how you can decide if it's the best GMAT prep book for you.
Price: $54.36 (for the bundle with all three books); $27.93 (for just the GMAT Review 2018 guide and online question bank)
This three-book bundle contains all the basic info you need to know about the test, as well as actual retired test questions from the GMAT. The three books included in the bundle are: GMAT Review 2018 Guide, GMAT Quantitative Review 2018 Guide, and GMAT Verbal Review 2018 Guide. Between all three of these books, the entire test is covered.
In addition to the book bundle, your purchase will give you access to an online question bank with over 1500 questions, including 220 all-new test questions that were just retired from the real exam. All practice questions, both in the book and online, come with answer explanations.
Pros:
This is the guide you need if you're looking to practice with real questions (which you should be). These guides are super realistic because they're written by the test-maker.
The online practice interface comes with an exam mode, which is identical to what you'll see on the real test day, so you can familiarize yourself with what questions will look like and how you can navigate throughout the test.
The guide is not too expensive. In most cases, it's worth it to buy the bundle with the three guides, rather than just the official guide. This gives you access to over 600 more questions.
Cons:
The guide gives access to a lot of test questions, but not to full-length practice tests. Remember, it's important to take full length practice tests to help build your stamina and comfort with the exam. While the guide doesn't offer full-length tests, you can get access to official, full-length GMAT practice tests for free by using the corresponding GMATPrep software. For more information about online practice options, check out our guide to online GMAT prep.
While this guide has the most realistic test questions available, it doesn't have much more. There is very little in the way of strategy in these guides.
These guides don't have a lot of questions on the highly difficult end of the question spectrum. If you're looking to get a 700+ GMAT score, you might be better served with other materials.
Some of the answer explanations (particularly in the quant and sentence correction sections) can be too simplistic or confusing.
Who Should Buy This Book:
Despite it's flaws, I recommend most students purchase this book bundle. It's one of the best resources for getting realistic questions. But be aware that you'll need to supplement the practice question bank with full-length practice tests in order to be fully prepared.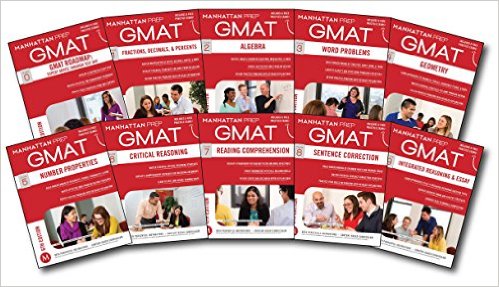 Price: $133.64 for the complete set of strategy guides
This Manhattan Prep bundle provides a comprehensive overview of all topics seen on the GMAT. The 10 books that make up this bundle are designed to provide a substantial learning impact for students by helping them develop the knowledge, skills, and strategic thinking they need to do well on the test. The set includes the following books: GMAT RoadMap; Fractions, Decimals, and Percents; Algebra; Word Problems; Geometry; Number Properties; Critical Reasoning; Reading Comprehension; Sentence Correction; and Integrated Reasoning and Essay. You can purchase all of the books individually or as a bundle.
Want to improve your GMAT score by 60 points?
We have the industry's leading GMAT prep program. Built by Harvard, MIT, Stanford, and Wharton alumni and GMAT 99th percentile scorers, the program learns your strengths and weaknesses and customizes a curriculum so you get the most effective prep possible.
These GMAT prep books come with a year-long subscription to web materials and practice tests. Each book dives into a specific section of the test with detailed instruction tailored to that particular section. The books don't emphasize the use of quick tips or tricks; rather, they focus on building a methodology and skillset to strengthen your performance. They'll help you build a deep base of content knowledge and a set of reliable test-taking strategies that you can rely on for exam day.
Pros:
The Manhattan prep books focus on teaching the fundamentals behind questions. This builds a deep understanding of the test because you'll have test-taking strategies that directly correlate to the content covered in the exam.
Each book provides in-depth instruction about one specific part of the exam, so you can mix-and-match the exact guides you need based on your strengths and weakness.
The bundle comes with access to six full-length, computer adaptive practice tests that accurately simulate test-day conditions.
Cons:
At over 100 dollars, the Manhattan prep books are fairly expensive. You can always buy just a few of the books if you know what you want to focus on, but if you're looking for a complete guide, this one is a definite investment.
The test questions tend to err on the more difficult side, so they might be challenging for test-takers who are not looking to score a 650+.
There are a few typos in the verbal practice problems. This usually isn't a big deal, but the errors can sometimes be confusing.
This is a very comprehensive test prep set, and requires a significant time investment to really see an improvement.
Who Should Buy This Book:
The Manhattan Prep books are a solid test prep package that can benefit most test-takers, especially if you're looking to learn content rather than strategy. If you have a lot of time to devote to your prep and you're serious about building a studying schedule, this is the book for you. If you don't have as much time or are only looking to work on specific sections of the test, you should consider purchasing the guides you need individually.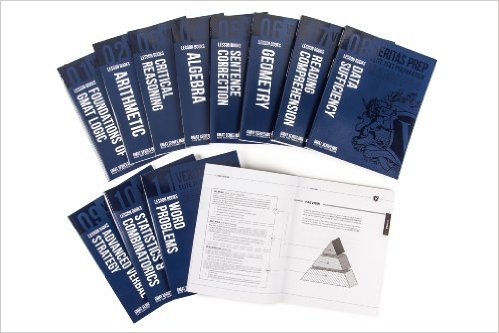 Price: $250.00 for the complete strategy guide
The Veritas Prep Complete GMAT Course Set includes a total of 15 guides (8 for the quant section, 6 for the verbal section, AWA and test simulation booklet). The package includes access to online resources, including hundreds of free practice questions and one full-length, adaptive practice test. The online resources include in-depth guides to 14 of the world's top business schools. Each of the books is clearly named and contains specific, clear strategies for tackling the types of questions covered.
Pros:
Every single one of the Veritas Prep guides is packed with practice questions, and the bundle includes access to an online guide with more practice questions.
The Veritas Prep books are clearly written and offer in-depth coverage of each topic.
The practice questions are known for being difficult and unique.
Cons:
The Veritas Prep course set online comes with just one full-length adaptive practice test. By contrast, Manhattan Prep offers six.
These books are extremely expensive ($250+). You can buy the guides individually, but if you're looking for a complete strategy guide and you're worried about price, Manhattan Prep is probably a better option.
Who Should Buy This Book
Get the Veritas Prep guides if you're looking for a lot of practice questions, but don't necessarily feel worried about simulating online practice. This would be a good companion set with the Official GMAT Guide, which offers a lot of online practice. It's also a good set to buy if price is not a concern.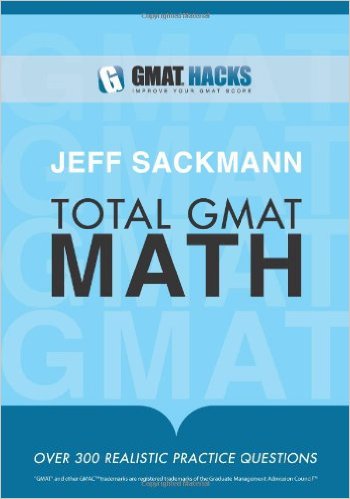 Price: $59.95
Total GMAT Math is designed to be a total overview of the GMAT quantitative section. It's all about math, obviously! No verbal questions or strategies here.
The book contains tutorials explaining every type of question that you're likely to see on the GMAT quant section. There are forty sections that review different question types, followed by a drill section with exercises to make sure you can apply what you've just learned. There are over 500 exercises in the book and over 300 GMAT practice questions. Of those 300 questions, 100 are "challenge questions" designed to simulate the hardest questions you may see on the test.
Pros:
There are a lot (300+) of GMAT-style math questions to help you practice.
There are even more (500+) of exercises that aren't GMAT style, but still build up your math knowledge. These include drills that are targeted at building the underlying skills you need for the exam.
The guide covers all the topics tested on the GMAT and each question type gets a section.
The questions come with good answer explanations, complete with diagrams and solid strategy suggestions.
Want to Identify YOUR GMAT Strengths and Weaknesses?
Our proprietary GMAT Diagnostic Assessment creates a customized study plan for you that takes you from registration all the way to test day! It is included with every account and proven to significantly maximize your score.
Get your personalized assessment as part of your 5 day risk-free trial now:
Cons:
Total GMAT Math

's format can be a bit confusing. The text is densely packed. If you're going to use it, make sure you read the first section ("How to Use This Book") to make the most of it.
The structure of the chapters is bit unorthodox, with no real logic or sequence to the chapters, meaning that sections stand alone and don't really build on each other, skill-wise.
No summary sheets – the book would be more useful if there were key concepts or words highlighted at the end of each section.
It's on the expensive side for one book.
Who Should Buy This Book:
If you're looking to build a foundation for the GMAT quantitative section, this is the book for you. The extensive questions and drills in Total GMAT Math will help you focus on the skills you need to feel confident about the quantitative section.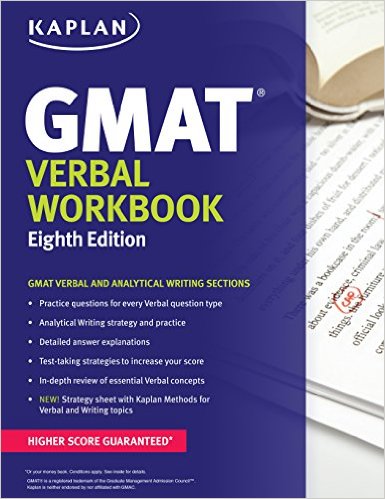 Price: $13.37
Does the idea of the GMAT verbal section make your palms start sweating? Never fear! Kaplan's GMAT Verbal Workbook will help you build a strong foundational knowledge for all of the specific verbal skills required on the GMAT.
The book provides straightforward strategies to cover every section (Reading Comprehension, Critical Reasoning, and Sentence Completion) on the verbal section. The book also provides a Vocabulary and Idioms list that are helpful, particularly for non-native English speakers.
Pros:
Kaplan GMAT Verbal

 offers realistic strategies for every part of the Verbal section.
It does a good job of explaining the difference between casual reading and GMAT reading and specifically teaching you how to read for the GMAT. The Reading Comprehension section is very strong in general and chock full of strategies and tips that will help build your skills.
The Critical Reasoning strategies are also very helpful — you'll learn how to approach the questions systematically and efficiently to reduce errors.
Contains 2220 GMAT-style questions that are on the harder side, so you can really up your score.
It's cheap! Who doesn't love a book that's under $15?
Cons:
The Sentence Correction section is a little bit weaker, only containing 5 pages plus a grammar section in the back. If you're a non-native English speaker, this is probably not enough for you to get the hang of the concepts tested by these questions.
The question banks in

Kaplan GMAT Verbal

overlap with those from the Kaplan Premier book, so if you've already bought that, you'll be reusing questions.
Some of the questions, particularly those on the Critical Reasoning section, are slightly different in style from those on the GMAT. Make sure you're taking official practice tests as well so this doesn't throw you off.
Who Should Buy This Book:
If you need to build a foundation for the verbal section, Kaplan GMAT Verbal is the book for you. This is a solid all-in-one verbal book that you can cover in a few weeks.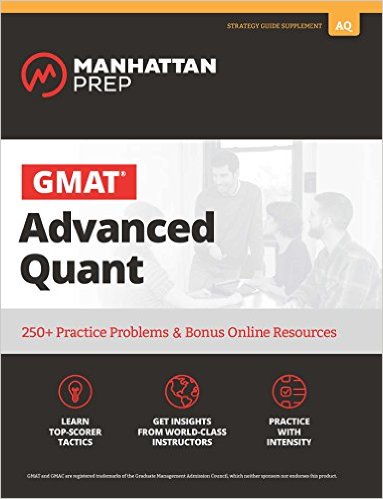 Price: $16.22
This book, from Manhattan Prep, is designed for students seeking a top GMAT score. It's geared at students who are already scoring at the 70th percentile on the quantitative section. It provides techniques for approaching the most difficult GMAT math problems.
There are over 250 practice questions in GMAT Advanced Quant, which are all extremely difficult. The book also includes access to two additional online practice sets. The sections included are Problem Solving Principles, Problem Solving Strategies & Tactics, Data Sufficiency Principles, Data Sufficiency Strategy & Tactics, Pattern Questions, Common Terms & Quadratic Templates, Visual Solutions, Hybrid Problems, and a chapter called "Workout Sets," which contains practice problems.
Pros:
If you're already doing well on the quantitative section, this will help you push yourself even further. It covers concepts and strategies that aren't reviewed in depth in either the full Manhattan Prep or full Veritas Prep guides.
The content really pushes you to the "next level" of thinking, particularly by ensuring you're working on very difficult practice questions.
The problems in

GMAT Advanced Quant

are all much more challenging than anything in the GMAT Official Guide, which are generally easy or medium questions. These questions will prepare you for the hardest questions you may see on the quantitative section.
It's a cheap supplemental to your other practice books.
Cons:
GMAT Advanced Quant

is not very useful for anyone scoring below the 70th percentile. It doesn't cover any basic quant concepts and assumes a high level of knowledge.
There are a few typos in the book that can make it hard or impossible to get the right answer to some of the questions.
Who Should Buy This Book:
If you want to be a top-scorer on the quant section, GMAT Advanced Quant is the guide for you. Many guides only offer easy or medium questions, whereas this guide offers the chance to practice hard questions that you'll encounter if you're a top-scorer.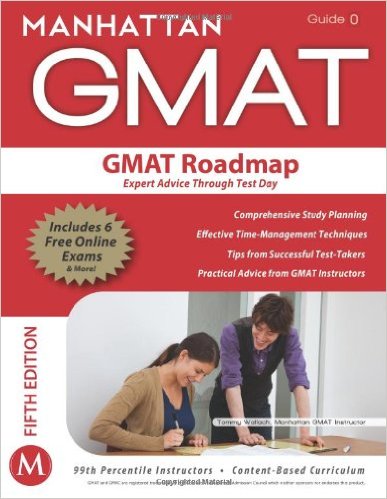 Price: $18.10
The GMAT Roadmap gives you a blueprint to follow as you get ready for the GMAT. This book isn't focused on content knowledge; it focuses on helping you develop an excellent test and preparation strategy, and then getting you to achieve that strategy.
Manhattan's GMAT Roadmap helps you map out your studying, develop and stick to a game plan, and manage your test anxiety. It also includes access to six online practice tests.
Pros:
It's like having a personal coach in your pocket (or on your Kindle) — this book will really guide you through every step of the studying process.
GMAT Roadmap provides solid study tips to maximize your study sessions.

It includes tips from test takers and instructors, as well as tips for international students.
The book includes some high-level overview of the different test sections (for instance, telling you what kinds of questions you'll see on the verbal section). It also gives a detailed overview of the test, including length for each section, order of the sections, and types of skills tested.
Cons:
Some of the advice is a little too obvious, such as getting a good night's sleep before the exam.
The chapter on test day expectations is not very in-depth and will likely leave you with some questions.
This isn't as useful for people who have already taken the GMAT, because it's primarily designed for people who aren't familiar with what will be on the test. If you've taken the test before, you've seen what's on it and you'll know about the basics of its formatting.
Who Should Buy This Book:
If you're a first-timer, GMAT Roadmap is a great book that helps you manage your expectations, put together a plan, and stick to it through test day.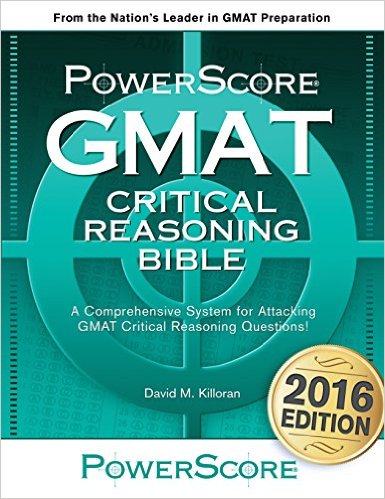 Price: $31.79
The GMAT Critical Reasoning questions are notoriously difficult. This book will teach you how to understand GMAT argumentation, how to recognize question types, and how to separate correct answer from incorrect answers. It offers an in-depth overview of Critical Reasoning strategies and approaches to different questions.
Pros:
PowerScore GMAT Critical Reasoning

clearly divides CR question types and gives specific strategies for each type of question. It also addresses common mistakes for each question type.

The CR practice questions are very realistic.

Every question is accompanied by solid explanations that help you make sure that you're not just solving a question, but solving it in the correct way.
Cons:
PowerScore GMAT Critical Reasoning

 doesn't include any tests or online content.

There aren't that many practice questions. You'll probably want to supplement with more official practice tests or questions.

Though most of the answer explanations are very clear, a few can be a bit long-winded or confusing.

The price point is slightly high for a book that focuses so narrowly on one question type.
WHO SHOULD BUY THIS BOOK:
If you're trying to improve your Verbal score and have noticed that Critical Reasoning is a weak point for you, this is a great book to hone in on a very specific set of skills.
How Can You Choose the Best GMAT Prep Book for You?
It's important to make sure you choose the right GMAT book for you. Consider the following factors when deciding what book to buy:
What Are Your Goals?
It's extremely important to think about your goals when you're considering which prep book to buy. After all, your GMAT test prep book will be a time and money investment. You want to make sure it's meeting your needs. For instance, if you're starting from scratch and want to learn a lot about the entire test, you'll probably want to think about purchasing one of the larger strategy guides. If you've taken the test before or if you feel confident in your skills in most sections, you might consider purchasing a guide that works on a specific area that you struggle with.
Is the Book You Want to Buy Good Quality?
Buying a good quality prep book is just as important as buying a GMAT prep book that meets your goals. You don't want to waste your money or time on a book that's filled with inaccurate information or bad strategies. Not only will incorrect information not prepare you for the test, it could actually hurt you. If you're practicing the wrong skills, you'll be unprepared for the skills that actually appear on the GMAT.
Make sure the book you buy is high quality. Check out our reviews here and read the reviews on Amazon. Knowing what other people think will help inform your decision.
What's Your Budget and Time Frame?
Make sure you're not stretching your budget or your time frame. You want to purchase a book that is affordable and fits your study plan. If you only have a week to go before your GMAT, it's probably not a good idea to spend $250 on a set of 12 GMAT books that you'll never have a chance to read. Similarly, if you're stretched for money, there are plenty of free resources around the Internet. You could buy a cheaper book, while supplementing your prep with some of the other study tools I'll discuss in the section below.

4 Other Study Tools to Consider
You're not confined to traditional GMAT prep books when approaching your studying. There are numerous resources (free and paid) that you can and should use in order to make sure you're fully prepared. Here are some ideas for tools that you can use to supplement your GMAT books.
This online software helps you prepare, practice, and improve. You'll learn about the skills you need and get a step-by-step guide for preparing for the GMAT.The software includes 90 free questions with answers and explanations. You also get full-length, computer adaptive practice tests. These are great for simulating test day (and they're official!), so you should definitely work them into your studying.
Free Online GMAT Practice Tests
Several resources offer free online practice tests. It's important to note that these practice tests are not necessarily of high quality. It's definitely better to take the official practice tests first. If you've exhausted those, try these.
GMAT Forums
There are a number of GMAT forums (such as Beat the GMAT and GMAT Club) out there that offer a whole range of services: test prep questions, interactions with business school and test prep company representatives, and general support. The forums also offer honest reviews of test prep options, as well as business school programs
GMAT Flashcards
Flashcards are a great way to make sure that you're practicing any time, anywhere. Several different groups offer free GMAT flashcards that cover everything from equations to idioms. Magoosh's free math flash cards review all the topics covered on the GMAT. Beat the GMAT also offers free GMAT flashcards that offer a complete set of GMAT "quick tips."
What's Next?
For some alternate GMAT study options, check out our guides to free GMAT prep, GMAT practice tests, and the best GMAT study materials.
Want an in-depth look at specific GMAT prep books? Check out our reviews of the Manhattan GMAT books and the Official GMAT Review Guide.
Was this helpful? Sign up for FREE GMAT and MBA guides!