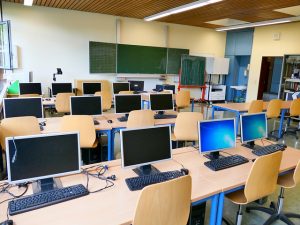 If you're planning to take the GMAT, you've probably started to think about when you'll take the test and how you're going to prepare. But one thing that you might not have thought too much about is where to take the GMAT.
Why does this matter? Well, where you take the exam can have a bigger impact than you might think on your test performance. After putting in the time and effort to prepare for the test, you want to make sure that the logistics of test day go as smoothly as possible.
In this guide, I'll be talking about what GMAT test center options you have, how to find a GMAT location near you, and some general tips about what to expect on test day.
Where Can I Take the GMAT?
The GMAT is offered throughout the year at test centers in over 100 countries around the world. In fact, GMAC, which owns and administers the GMAT, guarantees that you will be able to find an appointment within 30 days at any test center around the world. Because of this, many test takers have flexibility in choosing when and where they take the test.
The GMAT is administered by Pearson VUE in partnership with GMAC. You'll take the exam at a Pearson VUE test center, which are independent testing sites that administer a number of computerized tests. The employees there are responsible for enforcing the GMAC's rules and regulations for each test-taker. We'll talk more about what the testing rooms look like later on!
Not sure how or what to study? Confused by how to improve your score in the shortest time possible? We've created the only Online GMAT Prep Program that identifies your strengths and weaknesses, customizes a study plan, coaches you through lessons and quizzes, and adapts your study plan as you improve.
We believe PrepScholar GMAT is the best GMAT prep program available, especially if you find it hard to organize your study schedule and don't want to spend a ton of money on the other companies' one-size-fits-all study plans.
How Can I Find a GMAT Location Near Me?
As I mentioned before, the GMAT is available around the world on most days of the year. That means you may have a lot of flexibility in choosing the day, time and place that works best for you.
Let's walk through the steps for finding a GMAT location near you.
Step 1: Visit Mba.com to Find a Test Center
Follow this link to the official GMAC website to search for GMAT test centers. Once there, click on the bright green "FIND A TEST CENTER" button to be taken to the next screen.

Step 2: Search for a Test Center Near You
You can search for a test center near you by inputting your address, zip code, or city and state. Using an address or zip code will pull up just those test centers that are closest to you, while searching for something more general, like your city, will give you a wider range of choices.

Step 3: Select GMAT Test Centers You Want to Compare
After you input your location, a map of the nearest test center locations will be pulled up. You can see the general location of the test centers on the map, as well as more specific test center information like name, address, and distance from the address you provided in the left hand column.
If you click on "Details," you will be taken to a new window that offers directions to the center, as well as detailed information about where to park and how to find the center itself. This is useful because many GMAT test centers are located in larger buildings that may be hard to navigate.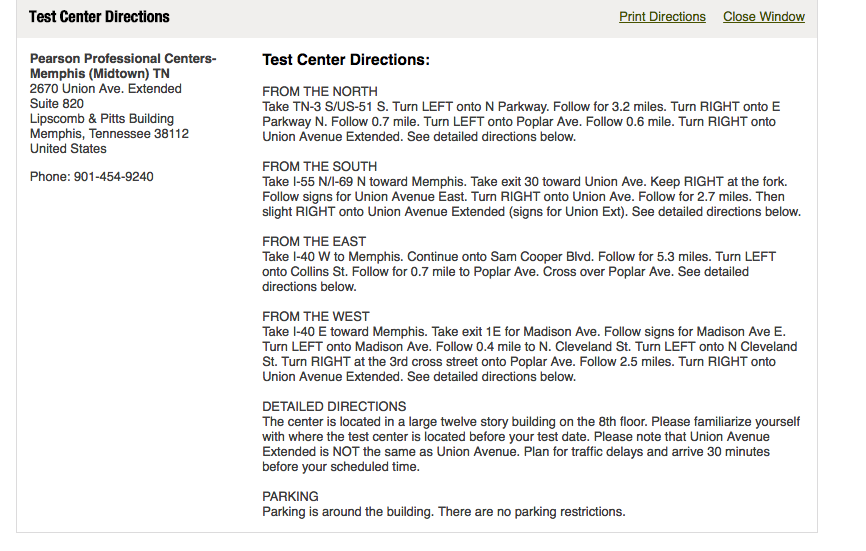 Going back to the map of GMAT test centers, select up to three locations that you want to compare and hit "Next."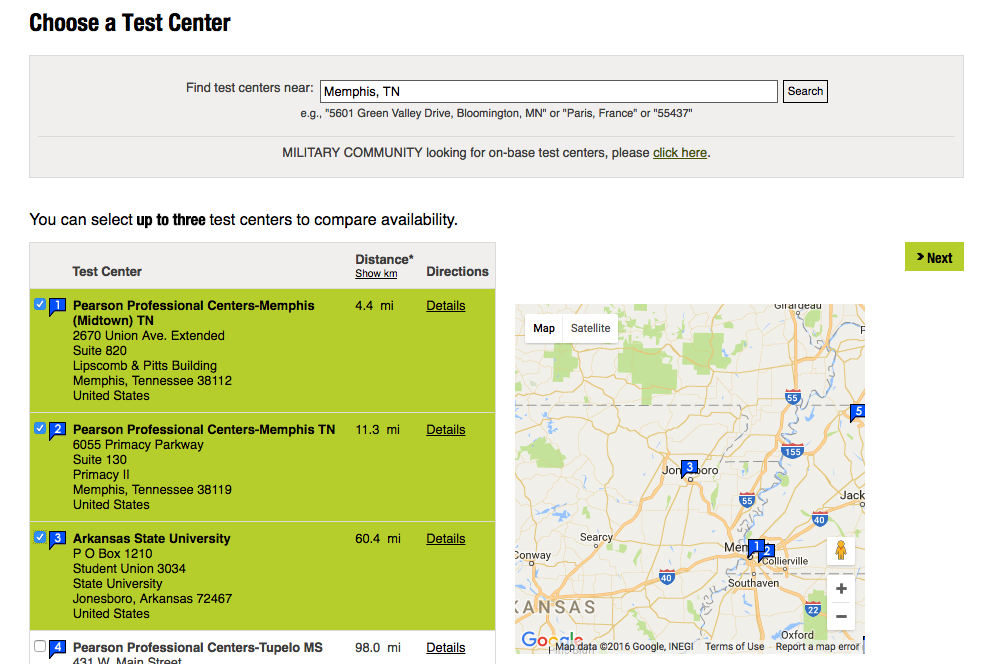 Step 4: Browse Available Appointments
Once you've selected the testing centers you want to compare, you can see open appointments. Days with available appointments will be highlighted in green on the calendar. If you select a specific day, the window will expand to show you available start times.
It's worthwhile to check the available dates and start times for all the GMAT locations you've selected, since the options can vary widely. For example, some centers may only have early morning start times, while others could offer primarily evening times. Think about what makes the most sense for your schedule and strengths.
Also make sure that you also take into account when your scores are due, as well as whether or not you will have enough time to prepare, when picking your test date.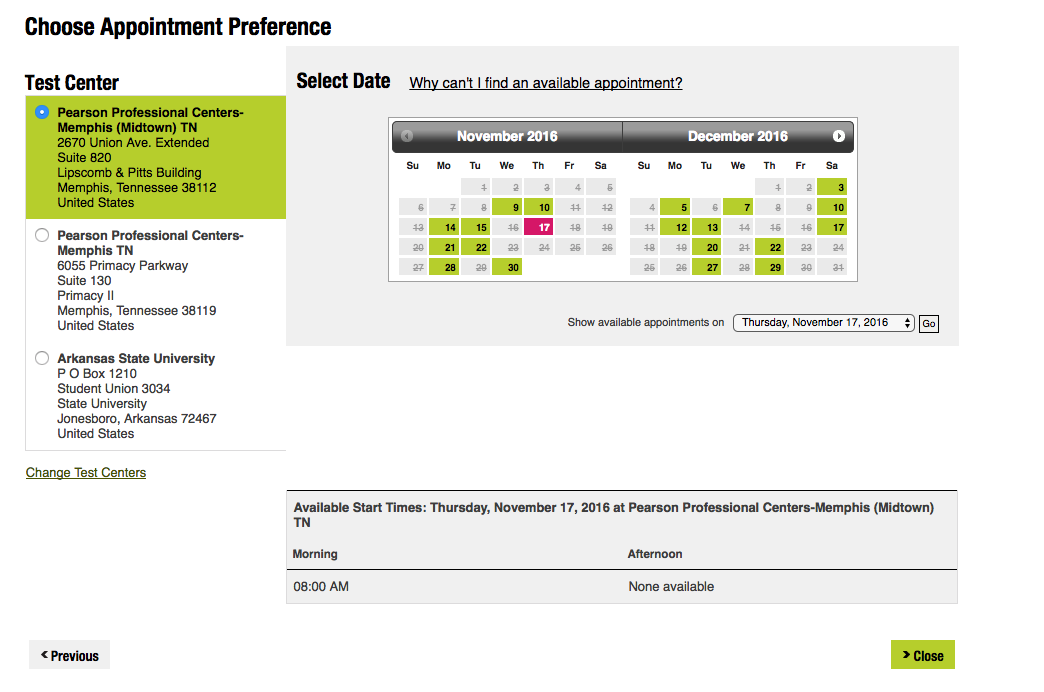 If you have a GMAT account, you can also register for the exam from this page. Select the date and time you would like and click on "Register Now" to complete the registration process. Check out our article on how to register for the GMAT for more info on this process.
What Should I Do If There Are No GMAT Locations Near Me?
If you live a long way from even the nearest GMAT testing center, you have several options.
First, consider whether or not you actually need to take the GMAT. While most business schools do require a GMAT score, some don't and a growing number (including some of the top-ranked MBA programs) will accept GRE scores instead. You may have more options for taking the GRE than the GMAT, since it's administered at different locations. 
But if you do need or want to take the GMAT, you'll have to travel to a test center. Before registering, think carefully about when you'll have enough time (and money) to do so. Will you need to drive? Take a bus or train? Fly? The good news is that because the exam is offered on many days throughout the year, you'll likely have some flexibility in picking a date that gives you enough time to travel.
How I Can Pick the Best GMAT Test Center for Me?
If you do have more options to choose from when it comes to where to take the GMAT, how can you make sure you've picked the right one? Making the best choice for you means thinking about a number of factors, including location, size, reviews, and availability.
Let's learn a little bit more about each of these.
Test Center Tip 1: Location Matters!
If there's only one test center near you, you'll almost certainly want to take the test there. You probably don't want to drive four hours (or fly!) to get to the test if you can help it.
However, if you have multiple options, think about what will be most convenient for you. Which of the centers are close to your home? Close to your school? Close to your job? Think about the time of day you will be taking the test. Are you going to go before work? After school? On a weekend? You don't want to be driving across town in rush hour traffic if you have a test center within walking distance of your front door.
Want to improve your GMAT score by 60 points?
We have the industry's leading GMAT prep program. Built by Harvard, MIT, Stanford, and Wharton alumni and GMAT 99th percentile scorers, the program learns your strengths and weaknesses and customizes a curriculum so you get the most effective prep possible.
It's also a good idea to test out the route you will be taking before test day to make sure you don't get lost. A lot of GMAT test centers are in office parks or buildings, so testing out the route beforehand will help you find the center itself, too. (I've actually driven around for half an hour in an office park looking for the entrance to a Pearson testing center before.) The fewer things that can go wrong and stress you out, the better!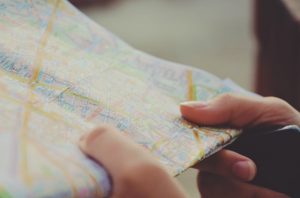 Test Center Tip 2: Consider What Size Will Be Comfortable for You
Test centers can range in size from small (only two test stations) to large (up to 15 test stations). Most centers offer a number of different exams in addition to the GMAT that all have different start times and test lengths.
At a larger test center, there will likely be other test takers coming and going as you take your exam. Are you easily distracted when you take tests? If so, you may want to factor that in when deciding where to take the GMAT.
A small testing center may have less opportunity for distraction because there are fewer test takers. However, a small center may also have less availability. If scheduling flexibility is important to you, a larger test center is probably the way to go. Along the same lines, if there is a malfunction with your computer (which would be rare) at a small center, you might not be able to use a different machine and may have to come back another day.
Test Center Tip 3: Read Test Center Reviews
If you rely on Yelp reviews to tell you where to find the best tacos, then good news! Many GMAT test centers are also reviewed on Yelp. You can input the name of your test center and see if there are any reviews. You definitely don't want to be at a place with a weird smell and shaky computer screens if you can help it.
You can also look for reviews of GMAT locations on forums like Beat the GMAT or GMAT Club. Know before you go!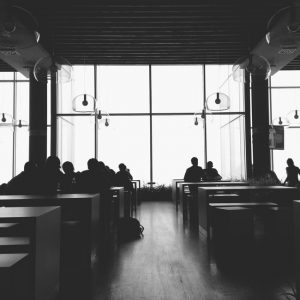 Test Center Tip 4: Check Availability
Finally, it doesn't matter if the location offers custom climate controlled testing stations and a warm cookie at the end of your session if you can't take the test on the date you want.
Look for test center that has a date, time and location that works for you and your schedule. Plan to be at the GMAT testing location for up to four hours and give yourself plenty of leeway before and after the test. You definitely don't want to be rushing to or from the exam. Make sure the date also works with your GMAT prep schedule — don't rush to sign up for a date just because the center you want has an availability. Give yourself time to adequately prepare. You'll be glad you did.
What to Expect at Your GMAT Test Center
Plan to arrive to your GMAT location at least 30 minutes before your scheduled test-taking appointment. You will have some paperwork and other administrative work to see to before the test begins, so it's a good idea to get there early so you don't feel rushed filling it out.
If you arrive more than 15 minutes after your test time, you might not be admitted and will lose your $250 test fee. If a friend or family member takes you to the test, they can't wait at the test center. Make sure they have somewhere to wait while you are testing.
When you arrive, the test administrator will check your ID, take your digital photograph and/or signature, and take a digital scan of your palm. These security measures help prevent cheating by ensuring you are who you say you are. Your ID must be an original (not copied), government-issued photo ID. It has to include your name in Roman alphabet, a recognizable photo, your signature, and your date of birth.
You can't bring any personal items into the testing room. Each test center has lockers that you can use to store your personal belongings. The test administrator will provide you with up to five noteboards to use as an aid during the exam. You can access snacks and medications during your break but you cannot use any technology until after the test is over.
The testing room will be completely silent. If you need help or have a question, raise your hand and the administrator will come to help you. If you need to leave the testing room at any time other than the scheduled breaks, the time will come out of your testing time. Know that frequent or lengthy breaks may be recorded and reported by the test administrator.
Want to Identify YOUR GMAT Strengths and Weaknesses?
Our proprietary GMAT Diagnostic Assessment creates a customized study plan for you that takes you from registration all the way to test day! It is included with every account and proven to significantly maximize your score.
Get your personalized assessment as part of your 5 day risk-free trial now:
Want to see what it's like inside an actual GMAT test center? Take a look at this video published by GMAC to get a sneak peek.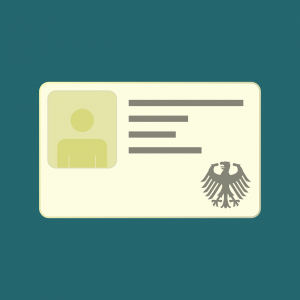 What's Next?
Looking to learn more about when to register for the GMAT? Check out our full guide to GMAT test dates here.
Not sure when you need to take the GMAT? We explain how to make sure you get everything done before your deadlines and still have plenty of time to study with our guide on when to take the GMAT.
Deciding whether to retake the exam? Check out our guides to retaking the GMAT and determining what a good score is for you.
Was this helpful? Sign up for FREE GMAT and MBA guides!