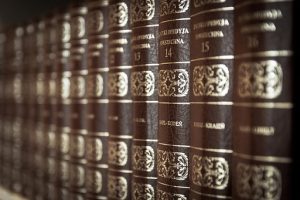 Are you preparing for the TOEFL but aren't sure the best way to study? Maybe you've heard that prep books can be helpful, but you don't know which one to get. A good TOEFL book can be your most useful resource for preparing for the exam, and this guide will help you choose the best TOEFL prep book for you.
In this post, I discuss five of the top TOEFL books, plus offer guidance on who each book is best for. I'll explain what you should look for when choosing a good prep book, and I'll share other resources you should use to study.
What Makes a Good TOEFL Prep Book?
What makes a particular TOEFL preparation book better than the rest? The answer can sometimes depend on the specific reason you got the prep book, but, in general, there are four qualities that all the best prep books have.
#1: Tips and Strategies for Answering Questions
A key part of any good TOEFL preparation book is that it gives explanations and tips for how to answer each of the question types on the TOEFL. These can make studying more productive and faster than it would be without a prep book because you'll learn the best way to answer questions without having to do trial-and-error methods on your own.
#2: High-Quality Practice Problems
Practice problems are key to doing well on the TOEFL because they give you a chance to put your knowledge to the test. Even if you have an excellent command of English, you can still be tricked or confused by questions if you aren't used to the way the TOEFL words questions or the topics they ask you about.
High-quality TOEFL books will contain dozens or hundreds of practice questions covering each section and question type on the exam. The questions will be similar to those on the real TOEFL in terms of how they are worded and the subjects they cover.
#3: Complete Practice Tests
In addition to practice problems, the best books for TOEFL prep contain full-length practice tests to help you become more familiar with the test and track your progress. Many TOEFL preparation books contain two or more practice tests, either paper-based, computer-based, or both. Computer-based practice tests are generally better since you'll likely take the real TOEFL on the computer, and the closer these practice tests are to the real exam the better. By taking practice tests, you'll get an idea of how well you'll score on the TOEFL and get prepared for the format and length of the test.
#4: In-Depth Answer Explanations
Even if a book has top-quality practice questions, you won't get as much out of them as you could if they don't also have good answer explanations. The best TOEFL books will explain why a particular answer is correct for all or most of its practice problems. This way, you can learn from your mistakes and understand why the correct answer is what it is.
The Best TOEFL Books
Not sure where to start with TOEFL practice books? I discuss five of the best TOEFL books below. For each book, I give a short summary of what it contains, as well as pros and cons and thoughts on who should choose each book.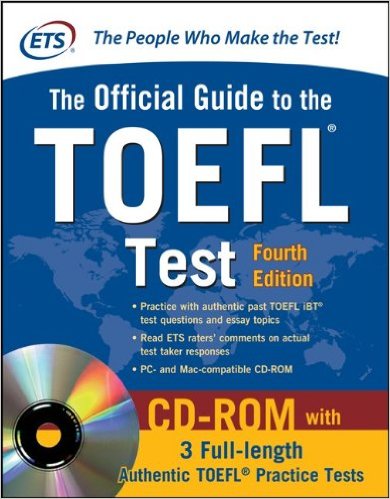 Price: About $23 on Amazon.
This is the official TOEFL book written by ETS, the organization that creates and administers the exam, so it is the most accurate resource on the format of the exam and the content it covers. After introducing the overall format of the TOEFL, the book devotes a chapter to each section of the exam. Each of these chapters explains the format of that section, the areas you'll be tested on, and the question types you'll see. Strategies for preparing for that section and several practice sets are also included at the end of each chapter.
This book also contains three full-length official TOEFL practice tests, along with answer explanations. A CD is included so these tests can be taken either on the computer or with pencil and paper.
Pros:
Official source so you can be confident the information given is correct.
Includes official computerized practice tests that are very similar to the real TOEFL.
Has in-depth explanations of the TOEFL's format and question types.
Answers to the practice tests are well explained. The answer keys also include sample essays of varying scores along with explanations, which the other official TOEFL books do not include.
Good balance between practice questions and explanation of what's on the exam.
Cons:
Not a lot of strategies are given in this book to help you answer questions. If you're looking for tips on answering questions more easily, you'll likely need to use another book.
Who Should Choose This TOEFL Book?
As the only official TOEFL textbook, this is the best book to teach you the format of the exam and the question types it includes. It's a great resource for people who don't know much about the TOEFL as well as those who suffer from test anxiety and appreciate having a solid knowledge of the test before exam day. Additionally, this book contains three official practice exams which are great resources to use, especially if you aren't purchasing the Official TOEFL iBT Tests books (see below).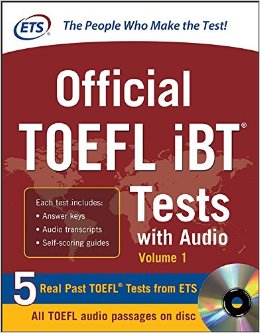 Price: About $22-$25 dollars each on Amazon.
Each of these books contains five complete past TOEFL exams. The TOEFL iBT books are the best to use for practice TOEFLs because they are written by the same people who make the TOEFL and the practice tests included are all retired real TOEFL exams. Like the Official Guide to the TOEFL Test, this means that you can be sure that the practice tests will be very similar in format, style, and content to the actual TOEFL which some unofficial practice tests don't always succeed in.
Each TOEFL iBT book includes a DVD-ROM so you can take the practice tests either on paper or on the computer. This means you can take practice tests in the same format you'll take the real TOEFL in. In addition to high-quality practice tests, these TOEFL preparation books also include in-depth answer explanations so you can understand why a particular answer is correct.
Pros:
The only prep books with official practice tests (other than the Official Guide to the TOEFL).
Option to take the tests either with paper and pencil or on the computer.
Clear, easy to understand explanations.
The computer versions of the test have a format very similar to the actual iBT TOEFL, so you can get used to how the test will look before exam day.
Cons:
These books primarily focus on practice tests and answers and don't include a lot of strategies or tips for answering questions. If you're looking for this information, you'll likely have to purchase another book in addition to these.
No sample responses for the Writing or Speaking sections are included.
Who Should Choose This TOEFL Book?
These are the best books to get if you want access to a lot of practice tests. Practice tests are one of the best ways to prepare for the TOEFL, so you'll want to be sure to take several of them during your preparation. Each book comes with five practice TOEFLs, and, since they're official resources, they'll give you an accurate idea of what the TOEFL will be like.
Since these books don't contain a lot of information on what the TOEFL covers or give many strategies for answering questions, you may want to purchase one or both in addition to another prep book more focused on explaining the test.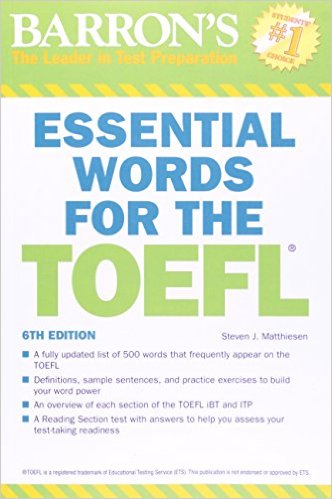 Price: About $9 on Amazon
Most resources for learning TOEFL vocabulary just give a list of words, sometimes along with a definition. Barron's goes above and beyond by explaining how vocabulary is important in each section of the TOEFL and giving tips on how to master those questions. The book contains the 500 most commonly-appearing words on the TOEFL. The words appear in groups of about a dozen at a time per chapter.
Following each word is the definition, synonyms, and example sentences. After the words are introduced, the chapter includes sample questions to test your knowledge of the words. The questions typically include a short passage with a vocab word in it and ask you to choose the word the vocab word is closest in meaning to. These sections take up the majority of the book, but there are also strategies for studying vocab words and a short practice test.
This book doesn't include any TOEFL flashcards, which may not be important since they offer other ways to learn the words, but it can be a drawback if that's your favorite method of learning new words.
Pros:
Includes the 500 vocab words you need for the TOEFL so you know which words to study.
Includes numerous practice problems so you can test your knowledge of the vocab words and get a better understanding of how vocabulary is used on the TOEFL.
Explains several strategies for studying vocab words such as creating flashcards and learning word roots.
Includes in-depth strategies and practice questions for the Reading section of the TOEFL.
Cons:
Focuses primarily on vocabulary and therefore can't be used as a comprehensive TOEFL prep book.
The "practice test" is very short (39 questions) and only contains Reading questions, so it's not a complete practice test.
If you want to make flashcards, you'll need to make them on your own since the book doesn't include any.
Who Should Choose This TOEFL Book?
Having a limited vocabulary can really hurt your TOEFL score, so if you're worried about not knowing enough words, this is a great resource for expanding your vocab knowledge. The list of 500 words you need to know is helpful, and, in addition to that, this book gives great advice on how to study those words so they stick in your memory. Beyond the list of words, this book also explains how vocabulary is tested on the TOEFL so you'll know how to put your new skills to use. Additionally, at less than $10, this book isn't a big financial investment.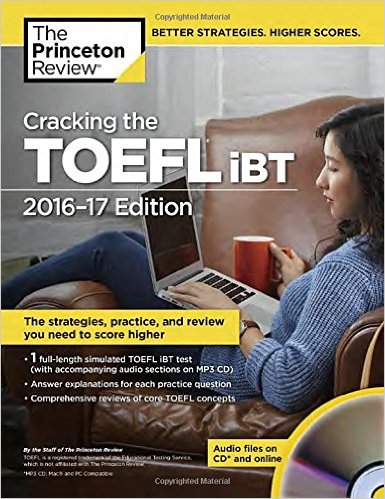 Price: About $22 on Amazon.
Like most other TOEFL prep books, Princeton Review's TOEFL iBT book begins with an introduction to the exam and devotes a chapter to each test section. Many people find Princeton Review books to be more interesting and easy to understand than other prep books. For each section of the TOEFL, this book breaks down the core concepts you need to know, goes over how to answer different types of questions, and give tips on challenges you may face. The book ends with about a dozen practice sets for each section of the TOEFL as well as a complete practice test you can take on paper or on the computer.
Pros:
Written in an engaging, easy-to-understand style.
Breaks each section down into core concepts you need to know to help make understanding the exam easier.
Lots of tips and strategies included to help you answer questions more easily.
The format of the computer-based practice test is similar to the format of the real iBT TOEFL.
Cons:
Only includes one full-length TOEFL practice test, which is less than many other prep books.
Practice questions tend to be a bit easier than those on the real TOEFL.
Not a lot of advice given for answering the most challenging questions on the test.
Who Should Choose This TOEFL Book?
If you're just starting your TOEFL preparation and/or not super confident in your skills yet, this may be the best book for you. The book is written in a simple, engaging style that many students enjoy because it's more interesting than a typical dry textbook. Also, this book breaks down the TOEFL into easy-to-understand core concepts that can make prepping for the exam less overwhelming.
There's not much of a focus on the trickiest questions you'll see on the TOEFL, so it may not be a good choice for students looking for a perfect or near-perfect score, but for many others, it's a good option. However, since it only includes one practice test, you'll likely want to get more practice TOEFLs, either online or from another prep book.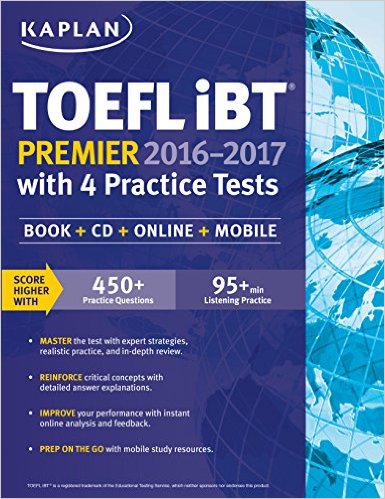 Want to improve your TOEFL score? We have the world's leading TOEFL course.
Built by
world-class instructors from Harvard and MIT
, the
course offers
individual review, interactive lessons, and realistic online praactice, at an affordable price! It's the fastest way to get your target TOEFL score.
Try our 5-day full access trial for free:
Price: About $27 on Amazon
Kaplan's TOEFL prep book is laid out in a very clear way. For each section of the TOEFL, the format and content tested are first explained, general strategies for the section are given, then each question type within that section is explained. For each TOEFL question type, more advanced strategies are provided, and the section ends with final studying tips for doing well on that part of the TOEFL.
Practice questions are included throughout the book, but the main focus is on explaining strategies, rather than providing a lot of sample questions. The book includes two CDs with over 95 minutes of listening passages and questions for students to use. Additionally, if you purchase the book (as opposed to borrowing it from the library), you'll receive online access to four full-length practice tests as well as study questions and tips you can access on your cellphone.
Pros:
In-depth analysis and tips for each of the four TOEFL sections.
Clear explanation of each of the question types on the TOEFL.
Four full-length practice tests.
Extensive Listening practice with two CDs containing Listening questions included.
Includes "Improve-Your-Score Strategies" at the end of each section to help readers gain more points on the exam.
Cons:
Not as many practice questions compared to many other prep books.
Some users have complained of technical issues with the online and mobile features. Most commonly, users have said that some test questions have incorrect answers and that the mobile resources are difficult to view and navigate.
Assumes you already have a fairly strong grasp of English, which may make it less ideal for students looking to make large improvements in their English skills.
Who Should Choose This TOEFL Book?
This book is best for students who have already done some studying for the TOEFL or already have advanced English skills. It doesn't walk through as many steps or give as much basic information as some of the other prep books, but it does focus more on the more challenging aspects of the test. If you're looking for a top TOEFL score, this is probably the best prep book for you to use.
Other TOEFL Study Materials to Use
A prep book will likely be your main resource during your TOEFL studying, but it doesn't need to be your only one. Check out these three other resources you can use to prepare for the TOEFL.
Additional TOEFL Practice Tests and Quizzes
Although there are lots of practice tests available in the prep books described above, you may want access to more of them to be fully prepared for the TOEFL. We have a list of the best practice tests and quizzes for the TOEFL. Check out this guide for the best TOEFL practice tests, including free and official resources.
English Learning Podcasts
Listening to native speakers communicating in English is a great way to practice for the TOEFL because it will give you more exposure to what the language sounds like and help expand your vocabulary and listening skills. Podcasts are a great listening resource since they cover a variety of topics to suit your interests and can be listened to almost anywhere.
You can choose a podcast based on your interests or look for ones specifically designed for English learners. Google "ESL podcasts" for some ideas. Popular options include BBC's The English We Speak and Breaking News English. Both are geared towards English learners.
TOEFL Vocab Flashcards
If you'd like more practice specifically on vocab words, flashcards are a great tool to use since they make it easy to test yourself. You can make your own set of flashcards with particular words you want to study, or you can check out our set of the 327 words you need to know for the TOEFL.
Finding the Best TOEFL Book For You
There are many TOEFL prep books out there, but to find the best one for you, you'll need to think about what you're looking to get from a prep book and where your strengths and weaknesses with the TOEFL are. Each book has pros and cons to it.
A prep book is typically the most important prep resource you use, but there are also other study materials to look into such as additional practice questions, podcasts, and flashcards. Using multiple types of study materials together can help you make your TOEFL preparation more efficient and maximize your score.
What's Next?
Want more information on how the TOEFL is scored? Check out our guide to learn exactly how the TOEFL is scored so you can maximize the number of points you get.
What score should you be aiming for on the TOEFL? Learn what a good TOEFL score is and how you can figure out what your goal score should be.
Practice tests are one of the best ways to prepare for the TOEFL. We've gathered information on the highest-quality TOEFL practice tests into one place so you have access to the best study materials.
Ready to improve your TOEFL score by 15 points?
Download our best TOEFL Strategy eBook (valued at $14.49) for FREE! Learn the top 5 strategies you must know to improve your TOEFL score. Download it for free now: