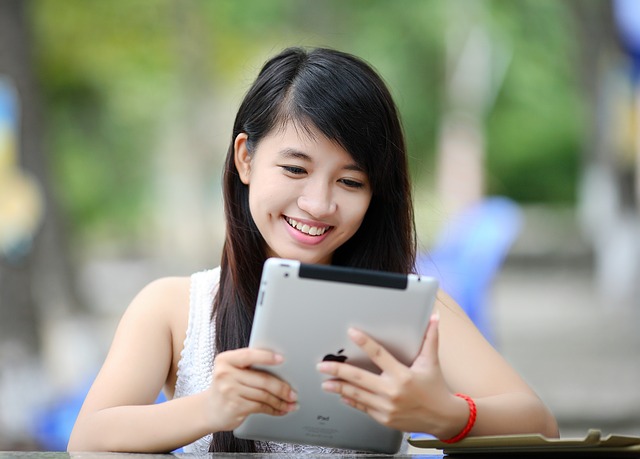 Reading can be a tricky skill for English-language learners to master, and TOEFL reading passages can be especially challenging. To truly do well on these passages, you must know complex English grammatical structures in addition to numerous high-level vocabulary words. Nonetheless, comprehending even complex TOEFL iBT reading passages is vital to getting the TOEFL score you want.
In this article, we explain where you'll encounter TOEFL reading passages (hint: they're not only on the Reading section!), go over various reading strategies, and introduce 15 resources for TOEFL sample reading passages.
TOEFL Reading Passages Overview
On the TOEFL, you'll encounter an eclectic array of reading passages. Though most TOEFL iBT reading passages are on the Reading section, you'll also see a few passages on the Speaking and Writing sections. How do these passages differ? Let's take a look.
Reading Section Passages
The Reading section is an entirely passage-based section, measuring your ability to read and comprehend university-level academic writing in English. You'll get three or four passages on a variety of topics, from history and science to art and literature. Each passage is around 700 words long, making them the longest reading passages on the TOEFL.
Here is an official sample Reading section passage: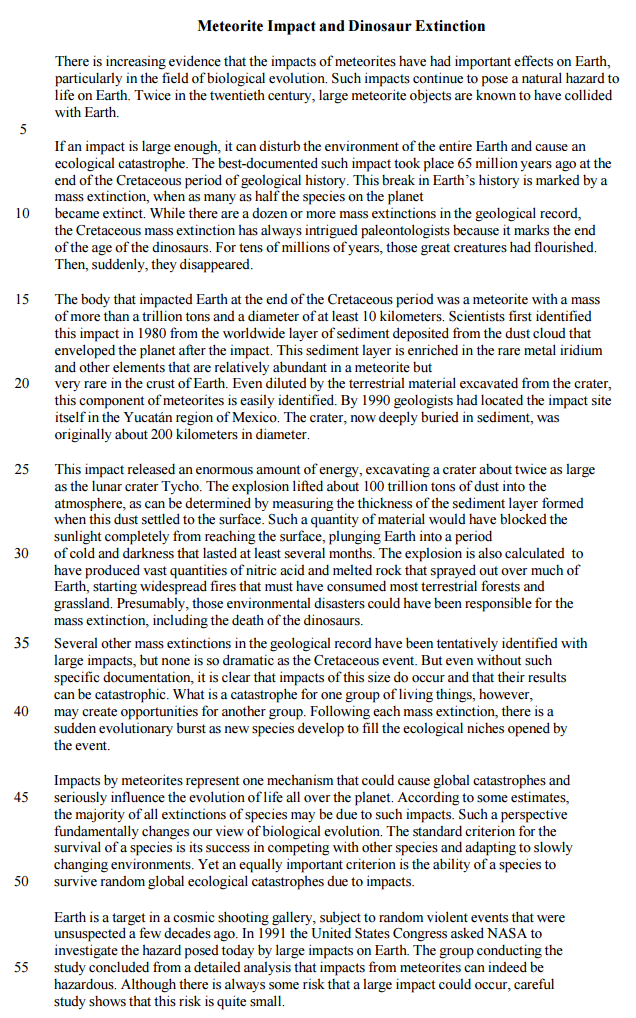 Each passage on the Reading section accompanies 12-14 questions. You'll have a total of 60-80 minutes (depending on whether you are given three or four reading passages) to complete the Reading section; thus, we recommend spending around 20 minutes on each passage and question set.
Most Reading questions are multiple choice: you'll select one answer out of four answer choices. Multiple-choice questions may ask you about the entire passage or specific sentences or words. Here's an example: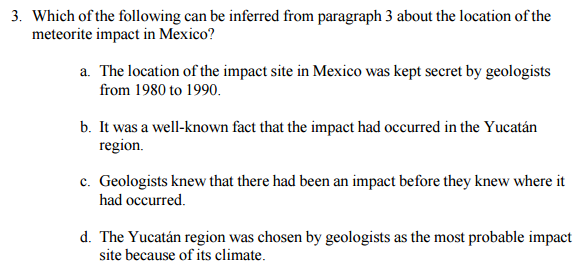 You'll also get one insert-a-sentence question on the Reading section. For this question, you'll be given a sentence which you must then insert into the most appropriate area of the passage: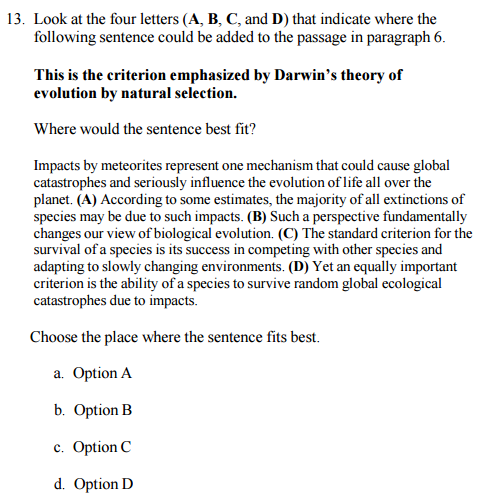 Finally, you'll get a 2- or 3-point question (the others are all worth 1 point) asking you to arrange the main points of the passage in a summary or chart: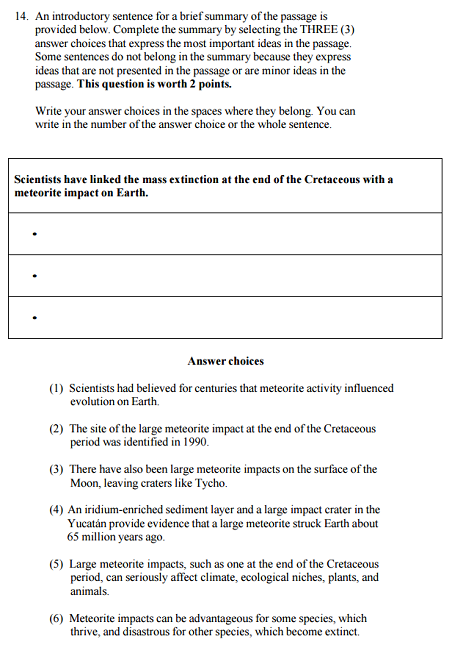 Speaking Section Passages
You'll get two passages on the Speaking section, one each on questions 3 and 4. These reading passages measure your ability to summarize and explain topics from readings and audio clips. They are also quite short — usually just 100 words or so. You'll have 45-50 seconds to read each passage and may only read each of them once (unlike the Reading and Writing section passages, which you may read multiple times).
The topics for Speaking section passages differ depending on the question. Question 3's passage always revolves around a campus-related change or issue. This passage usually takes the form of a flyer or announcement, making it one of the easiest TOEFL iBT reading passages. Once you finish reading, you'll listen to an audio clip of a conversation between two students. Your task, then, is to speak for 60 seconds about one speaker's opinion on the campus change.
Here is an official question 3 reading passage: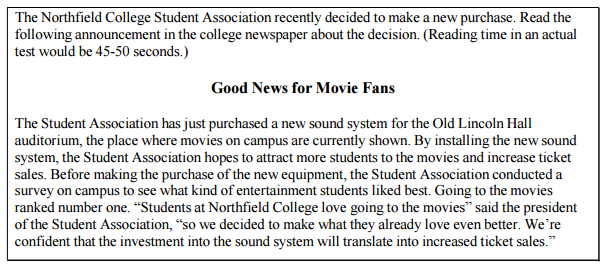 Question 4 is a little different. For this question, you'll read a short passage describing an academic concept or term. This passage is typically borrowed from a university-level textbook and therefore may revolve around a number of topics, such as science, psychology, art, etc. After reading the passage, you'll listen to a lecture on the same concept or term described in the reading. Your task is to explain this concept in 60 seconds using examples from the lecture.
Below is a sample question 4 reading passage describing the psychological concept of "flow":

Writing Section Passage
You'll have only one reading passage on the Writing section, and you'll see it straight away on your first Writing task: the Integrated task. This task measures your ability to read a passage on an academic topic, listen to a lecture, and then write a response comparing the points made in the lecture with those made in the passage. Although topics vary, this passage generally follows a basic four- or five-paragraph structure, with an introduction and three reasons to support, oppose, or illustrate the topic.
Compared to the Reading and Speaking section passages, the Writing section passage is of medium length, consisting of around 300 words. You'll get three minutes to read the passage (though you may reread it as many times as you want during your writing time) and then 20 minutes to write your response.
Below is an official sample Writing section passage: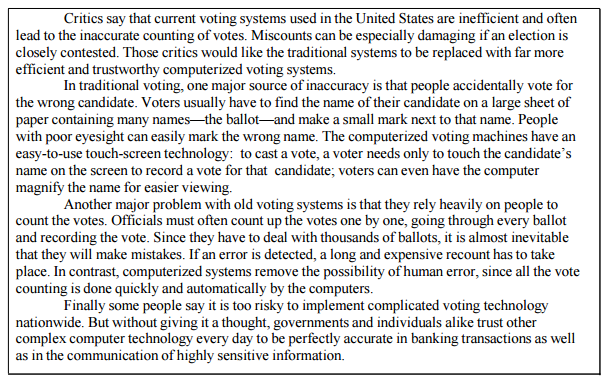 Recap: Reading, Speaking, and Writing Section Passages
So far, we've gone over the different types of TOEFL reading passages and how they differ from one another. Before we proceed, here is a summary of the major differences between the Reading, Speaking, and Writing section passages:
Reading
Speaking
Writing
# of Passages
3-4
2
1
Passage Appearance
All Reading questions
Tasks 3 and 4
Task 1 (Integrated)
Passage Length
About 700 words
About 100 words
About 300 words
Passage Topic
Various academic topics
Task 3: campus change or issue
Task 4: academic term or concept
Various academic topics
Reading Time Per Passage
Recommended 20 minutes per passage and question set
45-50 seconds
3 minutes
Can You Reread the Passage?
Yes, you may reread the passage as you answer questions
No, you may only read the passage once
Yes, you may reread the passage as you write your essay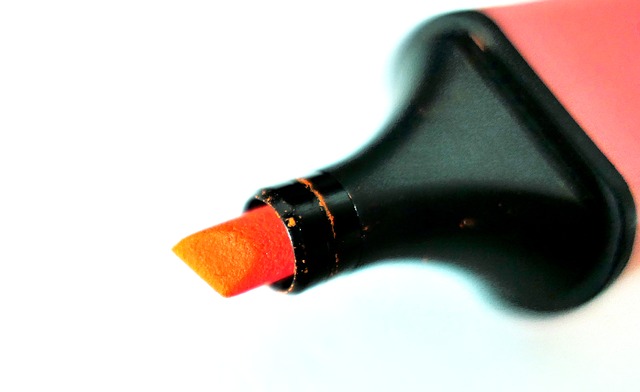 How Should You Approach TOEFL Reading Passages?
Because TOEFL reading passages differ so greatly in topic, length, and purpose, the best way to approach a reading passage will vary depending on the TOEFL section and test taker. Below, we provide you with our best reading strategies for TOEFL iBT reading passages on the Reading, Speaking, and Writing sections.
How to Approach Reading Section Passages
The Reading section offers a large variety of potential reading strategies from which you may choose. But before we explain what these strategies actually are, let's go over a few key points:
Try out different reading strategies before deciding on the one you'll use. I recommend using each approach on a different practice Reading passage (official tests and questions are excellent resources) and then comparing your scores to determine which strategy yields the highest score.
Pace yourself so that you don't accidentally run out of time. With the Reading section, you are not timed on each passage, thereby increasing your risk of spending too much time on a single passage and not enough on others. This is why we strongly suggest giving yourself about 20 minutes for each passage and question set.
Don't worry about taking notes on this section. Although these passages are long, you may reread them whenever you want during the 60-80 minutes you'll have for the section. So don't worry about taking notes!
Now, let's take a look at the four reading strategies for Reading section passages.
Strategy 1: Read the Entire Passage First
Perhaps the most obvious approach is to simply read the entire passage and then answer the questions. The pro is that this strategy allows you to focus on understanding the overall meaning of the passage before you answer any questions. The con, however, is that you'll need to be an extremely proficient English reader in order for this particular approach to work well for you.
In terms of time, you'll want to spend no more than five minutes reading each passage. This will give you 15 minutes to answer the 12-14 questions that follow (or about one minute per question).
Strategy 2: Skim the Passage and Then Answer the Questions
If you're slightly less confident in your reading comprehension or time-management skills, try skimming the passage and then answering the questions. With this method, you'll read only the most important parts of the passage — that is, the introduction (including the thesis), the topic sentence of each paragraph, and the conclusion — before attempting any questions. Then, if you come across questions you can't answer using only the main information, you'll briefly look at the areas of the passage you didn't get to read before.
Want to improve your TOEFL score? We have the world's leading TOEFL course.
Built by
world-class instructors from Harvard and MIT
, the
course offers
individual review, interactive lessons, and realistic online praactice, at an affordable price! It's the fastest way to get your target TOEFL score.
Try our 5-day full access trial for free: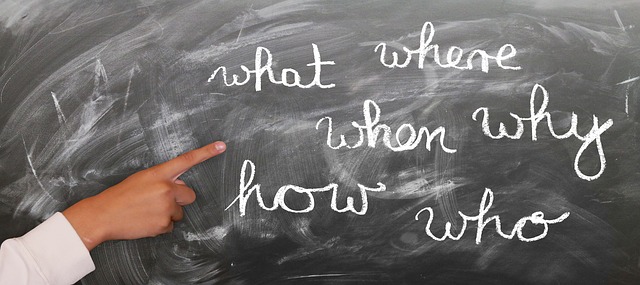 Strategy 3: Answer the Questions Paragraph by Paragraph
Another helpful strategy is to read each passage one paragraph at a time. Through this method, you'll read one paragraph, answer the questions corresponding to that particular paragraph (the questions will follow the same order as that of the passage), and then repeat the process with each subsequent paragraph. This is a solid strategy to use if you're worried you may forget certain parts of a passage or the order in which information is presented.
Strategy 4: Read the Questions First
Your last option is to read all of the questions first and then skim or read the passage. Some test takers prefer this method because it allows them to get a feel for the topic and what kinds of details to look out for before they actually read the passage.
But there are some risks. For one, this approach is often more time consuming than those listed above, as you'll likely need to refer back to the passage in order to fully understand what the questions are asking. Furthermore, you may need to reread the questions after reading the passage, thereby wasting valuable time.
How to Approach Speaking Section Passages
The two Speaking section passages are the shortest TOEFL reading passages. But because you'll only get to see each of these passages just once, it's imperative you read the passages in their entirety (in other words, don't skim them!).
You should also take detailed notes. For question 3, be sure to note what the campus issue or change is and any additional details from the passage, such as what caused the situation and how the school is handling it. For question 4, note the main academic term or concept described in the passage and any major points, definitions, or examples.
How to Approach the Writing Section Passage
On Writing, I strongly suggest using your three minutes to closely read the entire passage. While you don't need to take notes during this time (you'll be able to reread the passage later), make sure you focus entirely on the passage and are able to grasp the main topic, points, and details.
If you don't finish reading the passage within three minutes, don't worry — you may continue reading it during your 20 minutes of writing time. However, don't spend more than a minute or so of your writing time trying to comprehend the passage. Rather, the bulk of this time should go toward outlining and composing your response.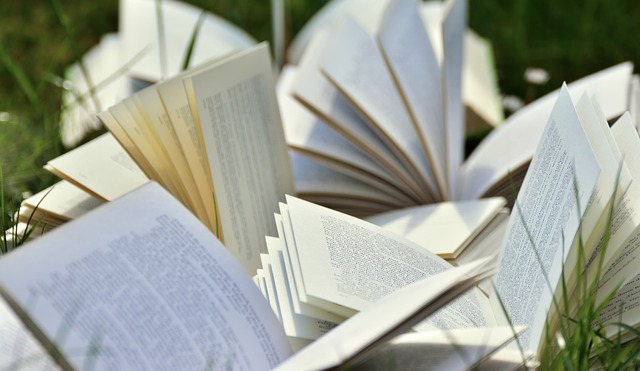 15 Resources for TOEFL Sample Reading Passages
Now that you understand how you can approach the different types of reading passages on the TOEFL Reading, Speaking, and Writing sections, let's check out the best resources available for quality TOEFL sample reading passages.
Official Resources for TOEFL Reading Passages
We'll start off with the best of the best: official TOEFL resources. All of these resources were created by ETS (the creators of the TOEFL) and therefore offer the most helpful and realistic TOEFL sample reading passages you can get. What's more, most of these resources are completely free!
A free, downloadable software, the Interactive Sampler offers an abbreviated TOEFL practice test with three Reading section passages (a complete Reading section!), one Speaking section passage (question 4 format), and one Integrated Writing passage. All reading passages are extremely high quality, and the structure of the program makes for an authentic test-taking experience.
Another free and official resource, Quick Prep offers four PDFs (available in A4 or US letter size) that each contain solid practice questions as well as a quality assortment of TOEFL iBT reading passages. Volumes 3 and 4 even offer MP3 audio clips you can listen to for more realistic practice with your Speaking and Writing passage-based questions.
Here are the volumes and the types of passages included in each:
Though less extensive than the PDFs above, this free PDF is equivalent to about half a TOEFL test and offers a solid array of sample TOEFL prompts, including several reading passages: one for Reading, two for Speaking (questions 3 and 4), and one for Writing.
These full-length, computerized TOEFL practice tests are all based on real (now retired) TOEFLs and therefore offer the most realistic TOEFL-testing experience you can get. As such, they're a premier resource for TOEFL reading passages, allowing you to hone your reading comprehension skills in an authentic test-taking environment.
Unfortunately, the tests aren't cheap — each costs 45.95 USD. So if you're feeling fairly confident, you're probably better off not wasting your money on these. By contrast, if you're nervous about the TOEFL or struggle to efficiently read passages, these practice tests may be worth the investment.
The best TOEFL prep book currently on the market, The Official Guide offers 600 practice questions, three full-length practice tests on CD-ROM, and a thorough collection of passages for the Reading, Speaking, and Writing sections. You can pick up your own copy for around 20 USD (that's far cheaper than the TPO tests above!).
In addition to The Official Guide, ETS offers two must-have TOEFL prep books, with each containing more than 300 practice questions and five full-length practice tests. These volumes not only provide you with tips and questions but also the opportunity to work with a large array of realistic TOEFL reading passages. Each volume currently sells for around 20 USD on Amazon (again, a lower price than that of a single TPO test!).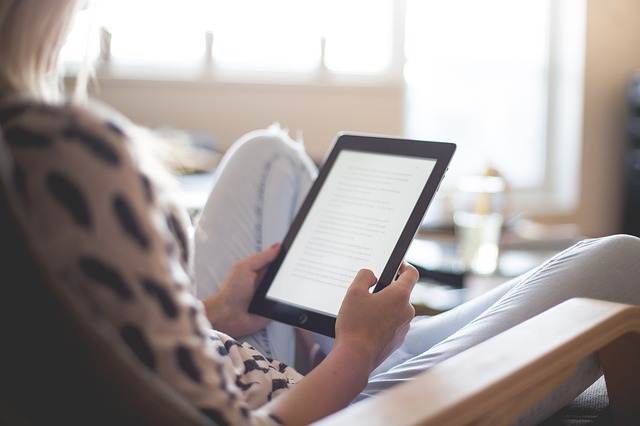 Unofficial Resources for TOEFL Reading Passages
Unlike official TOEFL resources, which are always high quality and contain both questions and reading passages that are extremely similar to those on the actual test, unofficial resources are not always reliable. That said, some unofficial resources do offer solid TOEFL iBT reading passages and can help improve your reading comprehension skills. You just have to know which resources are better than others — which is why we're giving you this list!
Below, we introduce the top unofficial resources for TOEFL sample reading passages. Like the list above, most of the resources here are free (except for the prep books).
Unofficial Prep Books
In general, paid, unofficial test-prep resources tend to be higher quality than free, unofficial ones. This is why we strongly recommend investing in one or two unofficial TOEFL prep books. Like official prep books, good-quality, unofficial prep books contain tons of realistic practice questions and helpful answer explanations — not to mention ample TOEFL reading passages. For tips, check out our guide to the best TOEFL prep books.
PrepScholar's YouTube channel teaches you TOEFL reading skills through guided lessons and high quality practice. This video below gives you an overview on how to answer References questions on TOEFL Reading. Watch the video to learn and practice answering a few questions yourself:

This free website offers several TOEFL-like passages for the Reading, Speaking, and Writing sections. With this resource, you get a Speaking quiz, complete with two passages; a Reading passage with 13 questions; and an Integrated Writing passage with a sample response.
Another free website, Test Prep Practice offers a total of five Reading section passages (but no Speaking or Writing passages). Though the passages center on topics similar to those you'll see on test day, their single-paragraph format is awkward and difficult to follow. In addition, some of the practice questions for the passages don't exactly follow the TOEFL format and are a bit too easy.
Exam English contains four TOEFL Reading tests (that is, four Reading section passages) in addition to one passage each for Speaking tasks 3 and 4. While the Reading questions aren't super realistic, the Reading and Speaking section passages are decent resources for raising your English-reading ability. The only major downside is that there are no samples of Integrated Writing passages.
This free resource contains five TOEFL Reading practice tests with passages (you can skip test #3). And although the passage topics are decent, most passages on this website are only 100-150 words long, making them significantly shorter than the Reading section passages you'd get on an actual TOEFL. (Remember, normal Reading section passages are around 700 words!) So while it's OK to use these passages for Reading practice, I suggest instead using them for Speaking and Writing practice.
Graduates Hotline is a free website offering eight high-quality Reading section passages, which are fairly similar, both in length and style, to real TOEFL reading passages.
There are a few drawbacks, though. First, the website doesn't offer any Speaking or Writing section passages. Secondly, some of the questions are lower quality and not as realistic as they could be. And finally, there appear to be some formatting issues with paragraph spacing on many of the passages, making them difficult to read.
To wrap up our list of unofficial resources, we at PrepScholar offer an original Writing section passage in our article on TOEFL Writing topics, which you can use to practice for the Integrated and Independent essays. I suggest spending three minutes reading our sample passage and then 20 minutes writing out your response (these are the same time frames you'll get on the exam). Once you finish, use our article on high-scoring TOEFL essays as a guide to determine how well you were able to answer the prompt.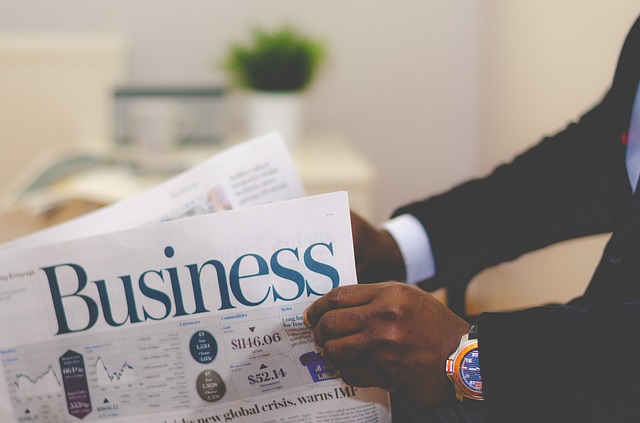 Resources for General Reading Practice
Last but not least, let's take a look at some of the more general (i.e., non-TOEFL) resources you can use for sample reading passages and to further hone your English-reading skills.
University-Level Textbooks
Many TOEFL reading passages are taken directly from introductory college classes and textbooks; therefore, reading real textbooks is guaranteed to familiarize you with some of the key features of scholarly texts, including the kinds of vocabulary they use and how they're typically organized.
Don't read entire textbooks — that's way too much work! Instead, focus on introductory paragraphs to new chapters and topics. These concise summaries are undoubtedly most similar to the types of passages you'll encounter throughout the TOEFL.
Journals, Publications, and Other Scholarly Texts
In addition to textbooks, reading numerous journals and scholarly texts in general will help you become a better, faster, and more efficient English reader. In fact, many of the resources we recommend are those we also tell native English speakers to use when preparing for the GRE. Therefore, with these resources, we guarantee you'll be learning higher-level vocabulary and reading strategies that are actually useful for college.
So what journals and publications should you read? For scientific passages, try perusing some of the abstracts on PubMed to get a feel for how research is usually presented and described. For all other topics, opt for popular newspapers and publications, such as The Economist, The New York Times, and The Atlantic.
The Importance of TOEFL Reading Passages
Passages are a vital component of the TOEFL. Contrary to popular belief, reading passages are not only on the Reading section but also the Speaking and Writing sections. Therefore, it's important for you to understand how to approach these different passage types as well as what you can do to properly prepare for them.
To recap, here are the major components of each kind of TOEFL reading passage:
Reading: About 700 words each, Reading section passages span a variety of academic topics, from history and science to philosophy and art. You'll have 60-80 minutes to read three to four passages and answer 36-56 questions. I suggest spending about 20 minutes on each passage and question set.
Speaking: In this section, you'll get two reading passages — one each for tasks 3 and 4. Question 3's passage will center on a campus change or issue, whereas question 4's passage will center on a specific academic term or concept. The passages will be about 100 words, and you'll have 45-50 seconds to read each one. You may not reread Speaking section passages once the reading time has elapsed.
Writing: There's only one passage on the Writing section and it's for the Integrated Writing task (task 1). This reading passage is about 300 words long and can span a variety of topics, usually offering three distinct points or examples. You'll have three minutes to read the passage (though you may look at it again later as you write your response).
If you're looking for sample TOEFL reading passages, many resources are available, including free PDFs, official and unofficial prep books, TOEFL websites, and general scholarly resources. Once you have the resources and reading comprehension skills you need to be successful, you're bound to get a great TOEFL score!
What's Next?
Need more help with the TOEFL? Here at PrepScholar, we offer robust collections of topics and resources for the TOEFL Reading, Speaking, and Writing sections.
Not sure where to start? Learn how to register for the TOEFL and then read our expert study tips on how to prepare for the TOEFL.
Ready to improve your TOEFL score by 15 points?
Download our best TOEFL Strategy eBook (valued at $14.49) for FREE! Learn the top 5 strategies you must know to improve your TOEFL score. Download it for free now: