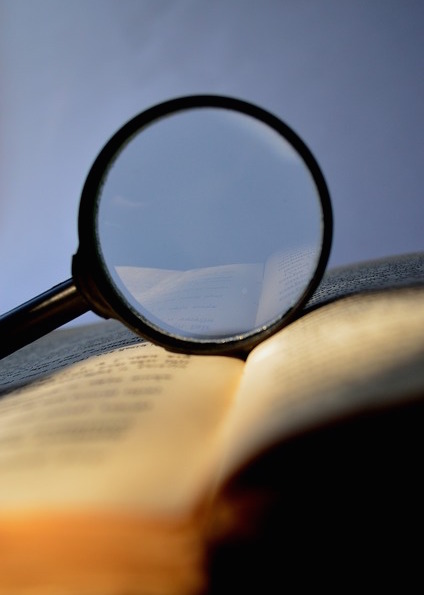 You're done with the GRE, done at last! Now all you need to do is send your score reports to the right schools, using the ETS code. But what is an ETS code, and why do you need it? I'll go over both of these things, along with how to look up the ETS codes for the schools you're applying to, in this article.
What's an ETS Code?
ETS codes are unique identifiers that ETS uses to make sure your scores get to the right school or fellowship or department within a school. There are two kinds of ETS codes: Institution Code (includes grad schools and fellowships) and Department Code (for departments within a school). Both codes are four-digit numbers.
All grad programs and fellowships requiring GRE scores will have an institution code, but not all programs require a department code – you should check the website of the programs you're applying to for the individual requirements.
Because ETS codes are already linked with specific schools and programs in ETS's databases, you're freed from figuring out address changes/policy changes for where GRE scores should go, when it comes to those schools and programs. ETS will do all that for you to make sure your scores get sent to the right place in a timely fashion.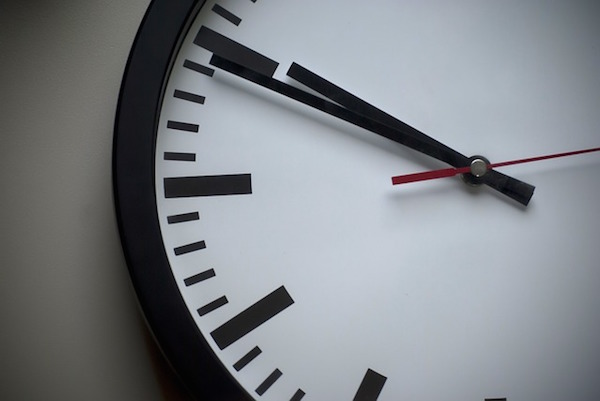 What Are ETS Codes Used For?
ETS codes are necessary in order to send your GRE scores to the grad schools and programs you're applying to. Fortunately, if you type in part of the name of your school or program into the online ETS GRE score report system, the site will autofill in the schools with those letters in it.
For example, let's say you want to apply to the Au.D. program in the department of Communicative Disorders and Sciences (CSDCAS) at SUNY Buffalo. if you start to type in "buffalo" to find SUNY Buffalo, the form will autofill with possible options. The four-digit numbers to the left of the school names are the ETS codes for those schools: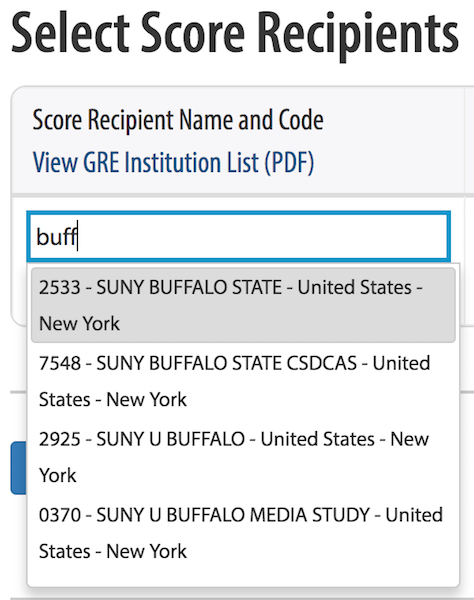 The score report request form warns test-takers that requests are filled on the basis of the code numbers you provide, rather than the name of the school or program. Without the right ETS code matched to the right program, your score will not get there. So you can't, for example, just choose any one of the possible SUNY Buffalo schools and expect your score to go to the correct department. You'd have to select 7548 – SUNY BUFFALO STATE CSDCAS to make sure your scores go to the right department.
If you're worried about whether or not you're choosing the right school on the ETS site, you can always email the school or grad program and double-check what their ETS code is. But for the most part, the only time you'd need to look up the ETS code rather than using the autofill feature on the score report form is if you are sending a paper score report.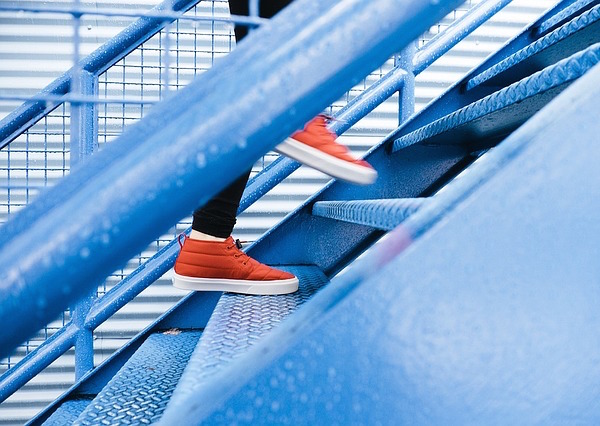 ETS Code Lookup: Step-By-Step Directions
To wrap up this overview of what ETS codes are and how to use them, I've created step-by-step instructions for looking up the ETS code for each program you're applying to. Keep in mind, however, that most test-takers won't have to do this, as the form on the ETS website should provide a list of school options (linked to ETS codes) to choose from.
Step 0: Make a List of Schools
Know the name of the schools you're applying to and, if applicable, the department within each school you're applying to. This is particularly important if, for instance, you're applying to a business school that's part of a larger university – you want to make sure you send your scores to the right school!
Step 1: Download the ETS Code Lookup PDF
Go to this online list of ETS codes. You can download to your computer or mobile device or view it online in your browser.
Step 2: Find Your School
On the ETS Code Lookup PDF, first find the state your school is in, then find the school. Both states and schools are listed in alphabetical order. If you're not sure which state the school you're applying to is located in, you can also try searching the PDF for part of the school's name and find the college (although you want to make sure that if there's more than one school with the same name, you send your scores to the right one!).
The four-digit institution code for the school will be listed next to the school name. This is the ETS code you'll need to send GRE scores to most grad schools and fellowships.
Step 3 (Optional): Find Your Department
Go to the ETS document containing department codes and find the corresponding department code for your program.
Not all graduate programs require this, so be sure to check on your program page before entering in this information onto your score reports; if it's not required, you can just leave the "Department Code" and "Department" areas blank on the score report request form.
What's Next?
Now that you know how to find the ETS codes for your grad programs, learn how and when to send out GRE score reports.
It costs $27 dollars to send each additional GRE score report, but what about other fees associated with the GRE? Find out how much the GRE costs with this article.
Not sure when to take the GRE? Read our articles on GRE test dates and how long to study for the GRE.
Ready to improve your GRE score by 7 points?
We've written a eBook about the top 5 strategies you must be using to have a shot at improving your GRE score. Download it for free now: