If you're just starting to think about grad school, you probably have a lot of questions, so I'm here to answer one of the biggest ones: what is the GRE? Do you need to take the GRE? How important is it for grad school admissions? What does it test? How can you sign up for it?
This in-depth guide will answer all these questions and more. Read on for a complete overview of the GRE that will get you up to speed on everything you need to know about the test and the actions you need to take.
This guide will cover the following topics:
What is the GRE test?
History of the GRE
Format of the GRE
Importance of the GRE for grad school admissions
GRE Subject Tests
How to register for the GRE
Next steps to take
The Basics: What Is the GRE?
The most basic description of the GRE is that it's a standardized test for people planning on attending grad school. You can think of it as similar to an ACT or SAT for graduate admissions. It tests verbal reasoning, quantitative reasoning, and analytical writing skills.
"GRE" stands for Graduate Record Examinations, and there is both the General GRE (which is what most people take), as well as seven Subject Tests (discussed in more detail below). The GRE is the most commonly required and taken test for graduate school. 
The GRE is developed and administered by the Educational Testing Service (ETS), the same organization that creates and administers the TOEFL (for ESL students) and Praxis (for future teachers) exams, among others. The GRE underwent significant changes in 2011, and the current format of the exam is often known as the Revised GRE.
If you apply to a graduate school, your GRE scores will likely be used as one of the pieces of information admission officers use to determine if you'd be a good fit for their school and program.
But what is the GRE testing, and what is it used for? There's a lot more to the GRE, so keep reading to get into the specifics of the exam.
Who Takes the GRE?
The GRE can be taken by anyone with plans to attend grad school. These plans can include a Master's, PhD, MBA, and more. Because the GRE is the standardized test most widely accepted by grad schools, it's often a required part of grad school applications and is taken by students interested in a wide variety of advanced degrees.
The GRE can be taken by current undergrad students as well as those who haven't attended school in years, or even decades. The majority of GRE test-takers, however, are younger than 30.
Nearly half of GRE test-takers live outside of the United States. India is the most common country outside of the US for people to take the GRE in.
GRE scores are valid for five years, so you don't need to have immediate plans to attend grad school, however, most people have a pretty good idea of the program or degree they'd like to pursue when they take the GRE.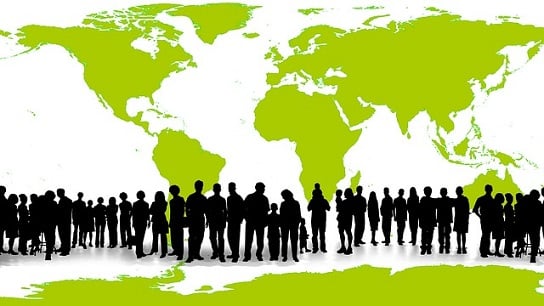 People from all over the world take the GRE
A Short History of the GRE
The Graduate Record Exam (GRE) was first administered by the ETS in 1949. Its original purpose was the same as its current purpose: to measure the preparation of students for graduate school.
The earliest versions of the GRE tested only verbal and quantitative reasoning. An Analytical Ability section was later added which had multiple-choice questions designed to measure the test taker's skills in grammar and sentence construction. This section was later replaced by the current Analytical Writing Assessment. For most of its history, the GRE was a pencil and paper exam, but now most test takers take the exam on the computer at specialized testing centers.
In 2011, the GRE underwent significant revisions, including a new score scale, the addition of an online calculator, and the discontinuation of certain question types, including analogies.
What Does the GRE Test?
As mentioned above, the GRE tests skills in three main areas: Analytical Writing, Verbal Reasoning, and Quantitative Reasoning. The computer version of the test is 3 hours and 45 minutes.
There are six sections, the first of which is always Analytical Writing. The other five sections, which can be in any order, are two Verbal Reasoning sections, two Quantitative Reasoning sections, and an unscored section used for research (you won't know which section is the research section). The paper version of the test is 3 hours and 30 minutes and doesn't include a research section. For scoring, both Verbal Reasoning and Quantitative Reasoning have score ranges of 130-170, in one-point increments. Analytical Writing has a score range of 0-6, in half-point increments.
Below is more information on what you can expect from each of the three main subject areas of the GRE.
GRE Analytical Writing Section
This section consists of two essay prompts: Analyze an Argument and Analyze a Task. You'll have 30 minutes to write each essay.
Analyze an Argument
For this task, you are given a particular stance on a topic, and you must evaluate the stance's strengths and weaknesses. You aren't giving your own opinion on the issue, you're instead discussing the given opinion, what its shortcomings are, and how it could be improved.
Analyze an Issue
For this task, you're given an argument, and you must develop and explain your own stance on it. You'll need to justify your stance with evidence that supports your viewpoint.
GRE Verbal Reasoning Section
Verbal Reasoning is designed to measure your ability to analyze written excerpts, summarize passages, identify key points and messages in texts, and understand the meanings of words, sentences, and complete passages.
Verbal Reasoning has three types of questions:
Reading Comprehension
For these questions, you'll be given a passage and asked both big picture and specific detail questions on it.
Text Completion
These questions will consist of a short passage with several blanks in it. There will be a list of words you could put in each blank, and you'll have to choose the most appropriate word.
Sentence Equivalence
For these questions you'll be given a single sentence with one blank, as well as six answer options. You'll have to select the two options that both fit in the sentence and produce sentences that have the same or similar meaning.
GRE Quantitative Reasoning Section
GRE Quantitative Reasoning questions test your knowledge on the following subjects:
Algebra
Arithmetic
Data Analysis
Geometry
No higher-level math subjects, such as calculus, are tested, and most questions don't require much more than high school math knowledge. This means that students who didn't study advanced math concepts in college are not at an automatic disadvantage.
Instead of testing complicated math concepts, the Quantitative Reasoning questions aim to measure your basic mathematical skills, your understanding of elementary mathematical concepts, and your ability to reason quantitatively and solve problems with quantitative methods.
Most questions are multiple choice, however; there will also be a handful of numeric entry questions on the exam where you have to enter in the answer you believe is correct. Some of the multiple-choice questions are a specific type of question known as Quantitative Comparison questions.  For these, you'll be given two quantities, Quantity A and Quantity B, and you'll be asked to determine if Quantity A is bigger, Quantity B is bigger, the two quantities are equal, or the relationship can't be determined.
Don't try to bring your own calculator to the exam. There'll be one on the computer that you'll use instead.
How Important Is the GRE for Grad School Admissions?
Will your GRE scores be a key component of your graduate admissions, or are they just a formality that schools request? The answer depends on both the school and the program you apply to.
For some programs, GRE scores are a major factor in determining if someone is a suitable candidate, while other programs weigh other factors, such as GPA and letters of recommendation, much more highly.
Some programs may also pay more attention to your scores on certain parts of the GRE than others. For example, if you're applying to a STEM program, the admissions committee may care more about your Quantitative Reasoning score than your Verbal Reasoning score, since the former is more related to what you will study and need to know for that particular program.
Some smaller programs where candidates can be individually interviewed and given more time in the admissions process, such as those for people intending to get their PhD, often place less emphasis on GRE scores than larger programs, such as some MBA programs, where many candidates have to be efficiently evaluated. Also, more competitive programs tend to place more importance on the GRE because they use low scores to quickly weed out candidates.
However, these are only generalizations and are not true for every school and program. In most cases, you'll have to hit a certain cutoff score (which varies by school and may or may not be openly stated) in order to show you meet the minimum competency requirements of that program. If you score significantly higher than that base cutoff, it will help your admission to some programs, but won't have an impact in other programs.
If you want to get a better idea of how important GRE scores are to a particular program, contact an admissions officer there and ask them. Schools will rarely state exactly how they evaluate candidates, but they will often explain which factors come into play and how important each of those factors are.
Some schools give the GRE more weight than others.
What Are GRE Subject Tests?
For most people, all they need to take is the GRE General Test which is the exam that has been discussed throughout this article. However, some people may also want to take one or more GRE Subject Tests in addition to the General Test. GRE Subject Tests, like SAT Subject Tests, test your knowledge in a specific subject area.
There are currently seven GRE Subject Tests:
Biochemistry, Cell, and Molecular Biology
Biology
Chemistry
Literature in English
Mathematics
Physics
Psychology
Be aware that you cannot submit Subject Test scores in lieu of the GRE General Test; you would have to take one or more of these tests in addition to the regular GRE.
Most graduate schools don't require GRE Subject Test scores, however; you may decide to take one or more Subject Tests anyway and send your scores to schools where you're applying, although most applicants don't do this. Policies vary by school, but some will look at your Subject Test scores even if they aren't a required part of your application.
It's also important to know that taking a GRE Subject Test is somewhat different from taking the GRE General Test. In most places, the GRE General Test is taken on the computer, and there are many test dates to choose from throughout the year. Subject Tests are taken on paper, at specialized testing centers, and they're only available three times a year: in September, October, and April.
How Do You Take the GRE?
To sign up for the GRE (as well as Subject Tests), you first need to create a My GRE Account in order to register for the exam and eventually view your scores. You can use this site to see where and when GRE exams are offered.
If you're taking the test on a computer (as most people will be), your testing location will be a Prometric Testing Center. For people taking the GRE within the United States, there are a large number of testing dates for the computer-based version of the GRE, so you should be able to find a date that fits your schedule. Some countries have a limited number of test dates, so if you plan on taking the GRE outside of the United States, make sure to begin looking at test dates and locations early to ensure you get a spot.
Some areas, where computer based-testing isn't available, offer a paper version of the GRE. This version is offered three times a year and is generally not available in places where you can take the computer-based version of the test, unless you have special circumstances approved by ETS. (Remember that all GRE Subject Tests are only offered as a paper-version.) You can view the complete list of paper-delivered test centers for both the General GRE and the GRE Subject Tests
The fee for taking the GRE is $205, except in China where the fee is $220.70. This fee includes four free score reports which you can send to schools you plan on applying to. The cost of sending each additional score report is $27. That's quite a bit of money to take the GRE, but there are fee reductions available. Check out this website to see if you're eligible.
After you've been successfully registered, you'll receive an Admission Ticket which you'll need to bring with you to the exam. Immediately after you finish the test, you'll see your unofficial Verbal Reasoning and Quantitative Reasoning scores on the computer screen. These unofficial scores will almost always be the same as your official scores, although in rase cases there may be slight differences. Like the ACT and SAT, GRE scores are based in part on how well other students do on the test (this is to ensure you aren't put at a disadvantage if the version of the GRE you take is harder than a version someone took, say, three months ago). Official scores have been double-checked against other test taker's scores, but, again, there is rarely any difference between official and unofficial scores.
About 10-15 days after your exam, you'll receive an e-mail telling you that your official scores for all sections can be viewed on your My GRE account. Your scores will also be sent to the schools you designated when you registered for the exam.
It'll take about 10-15 days for you to receive your official scores (wax seal not included).
Next Steps: What to Do Before You Take the GRE
So now you know what the GRE exam is and you've decided to take it —what should you do next?
Set Up a My GRE Account
First, if you haven't already, set up a My GRE account on ETS' website. You'll need an account to register for the GRE and, later on, view your scores and send them to schools, so it's best to get this step out of the way now even if you aren't planning on immediately signing up for a test date.
Consider Your Schedule
Next, start thinking about where and when you'd like to take the GRE. Remember that scores take about 10-15 days to be delivered, so, to be safe, take the GRE at least a month before your applications are due in order to ensure schools get them in time. It's also possible to take the GRE multiple times. You can take the GRE up to five times within a 12-month period, as long as the last time you took the test was at least 21 days ago.
Set a Goal Score
You'll want to set a score target for yourself before you take the GRE. Doing so will help you determine how well your studying is going and let you know if you need to retake the exam after you receive your results.
You can set a goal score by researching average GRE scores of the schools you're interested in attending. This information is often available on program websites, or you can contact someone in admissions to see if they have that information. We also have guides on what a good GRE score is to help you figure out what score to aim for.
Start Preparing for the Exam
On their website, ETS has in-depth guides for each of the GRE sections, as well as sample questions and explanations. You can download free software to take two complete practice tests, and there's also additional prep material for purchase. If you'd like to prepare for a GRE Subject Test, there's a PDF file available for each Subject Test which contains a complete practice test, as well as test strategies and scoring information.
What's Next?
Now that we've answered the question, "What is the GRE?" you'll need to prep for the test.
Interested in more in-depth information on what the GRE covers? Learn more about the format of the GRE, including all the subjects the exam covers and each type of question you'll be asked.
Want more information on how to register for the GRE? We have a step-by-step guide that explains how to register for the exam, including information for international students and how to register for Subject Tests.
Wondering how your GRE score is calculated? Our guide explains how the GRE is scored, what adaptive scoring is, and which GRE questions have a much bigger impact on your final score than others.
Ready to improve your GRE score by 7 points?
We've written a eBook about the top 5 strategies you must be using to have a shot at improving your GRE score. Download it for free now: