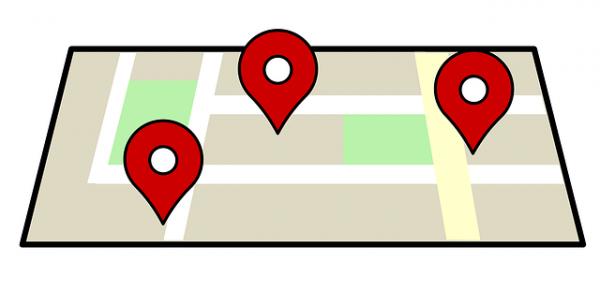 Determining a study schedule isn't the only preparation you'll need to do before taking the GRE — you'll also need to select a test center. But are there any differences among GRE test centers? What factors can ultimately help you decide where to take the GRE?
In this guide, we'll cover all of the basics of GRE test centers, including where the exam is offered, how to look for test centers near you, and what factors to consider in order to determine the ideal test location for you.
Where Can You Take the GRE?
Luckily for you, the GRE can be taken almost anywhere around the world and at any time! The computer-delivered GRE (the most common version) is administered year-round at Prometric test centers, where all GRE test sessions are available on a first-come, first-served basis. A subsidiary of ETS, Prometric proctors the GRE and other tests at 8,000 test centers in more than 160 countries. In certain areas, GRE test centers outside the Prometric network may be available.
In areas where the computer-delivered GRE is unavailable, test takers may instead be able to take the paper-delivered GRE. The paper-delivered GRE is offered up to three times a year at specific test centers around the world.
The same goes for GRE subject tests, which are only offered as paper-delivered tests. Subject tests are administered at an array of test centers (see pages 3-9) around the world up to three times a year in September, October, and April.
So, now that we have an idea of where you can take the GRE, how can you locate test centers in your area specifically? Read on to find out.
How to Find GRE Test Centers Near You
First, log on to your ETS Account. (If you don't have an account, simply follow the directions to create one for free.) You'll be brought to a page called "My GRE Home":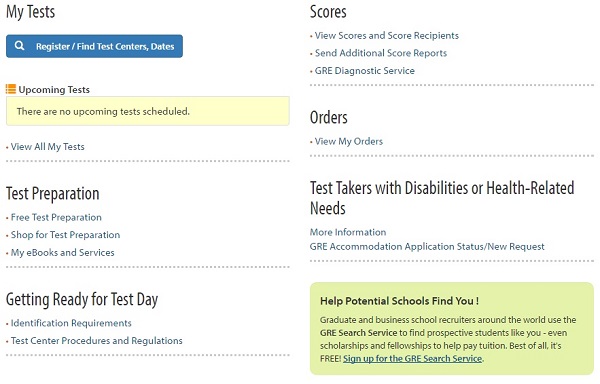 Next, click the blue button that says "Register / Find Test Centers, Dates." This will take you to a page where you can begin your search for GRE test locations and dates: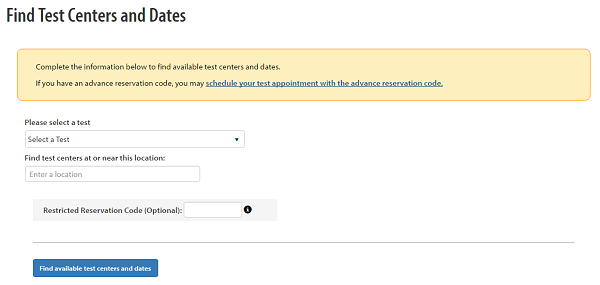 Select the test you are planning to take (for most people, this will be the "GRE General Test") and input your location in the blank below the drop-down list. You can search by state, city, or address.
I recommend inputting your home address, especially if you live in a large city, in order to narrow your search to only the GRE test centers closest to your location. If this turns up few results, try expanding your search to city.
At the bottom of the page you'll see two consecutive months. This is the span of months for which you'll be looking up available GRE test centers and dates. You can choose any month up to one year away. For example, if I were looking up GRE testing centers in April 2017, I could browse all available GRE locations and dates through March 2018.
Remember that certain countries and territories offer only the paper-delivered GRE. Although you can register for the paper-delivered GRE online, seating will be more limited for each session due to the smaller number of test dates. Refer to our guide for 2017-2018 GRE test centers and dates.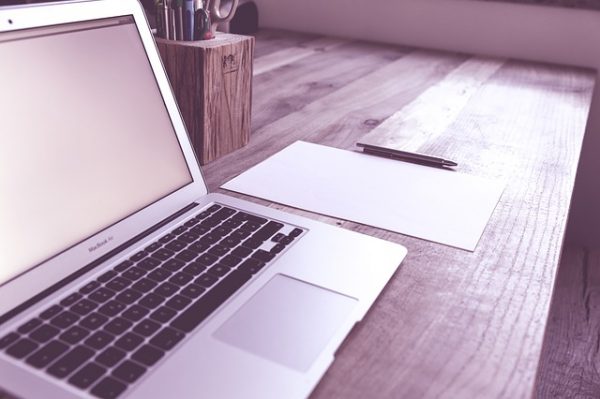 Once you've input a location (either a city or an address) and a two-month span, click "Find available test centers and dates." On this page, you can browse all GRE test locations and dates available within the two-month period you selected.
Here's what the page would look like if you were to search for test centers in Houston: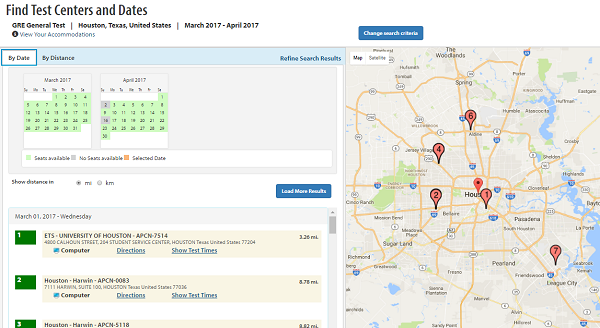 On the left, choose a date and a test center and then click "Show Test Times" to look at available test times for that particular date and location. While browsing, be sure you're using the map to gauge how close to or far from your location each test center is.
You can also click the tab at the top labeled "By Distance" to browse test centers by distance instead of by date. This option works best if you've input an exact home address (or the name of a small town you live in) instead of a city. If you live in a large city like Houston, this feature isn't particularly helpful since all it does is show you how far a test center is from the city center. (In the image above, for example, searching for "Houston, Texas" resulted in a pin on the city center.)
Additionally, if you click "Directions" next to "Show Test Times," you can bring up a separate tab with Google Maps and use it to identify possible routes to and from a specific test center.
If a test center and time fits well with your schedule and seats are available, click "Register" and then follow the steps detailed in our GRE registration guide to complete your GRE registration:

All of these steps for choosing a test center are roughly the same for the paper-delivered GRE and GRE subject tests. Those taking the paper-delivered GRE can also register for the exam by first selecting a valid GRE paper-delivered test center and then mailing a separate registration form to ETS. Note that this method usually takes around four weeks for processing.
Congratulations! You now have everything you need for finding the GRE test centers closest to you. But although proximity is important, is it the only thing that matters?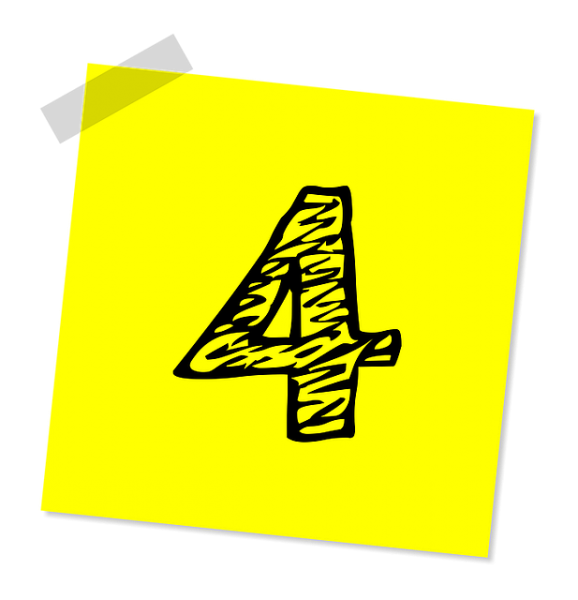 4 Tips for Picking the Right GRE Test Center for You
Deciding where to take the GRE sounds like it should have an obvious answer: all you have to do is go for the one closest to you, right? In reality, though, there's much more to choosing GRE test locations than just distance.
Here are four important questions to ask yourself before settling on where to take the GRE.
#1: How Close Is It to You?
As previously stated, proximity is one of the most important factors for choosing a GRE test center.
Think about it: someone in Chicago wouldn't want to choose a test center in Los Angeles when there are tons of GRE test centers available throughout Chicago! So always search for GRE test centers in or close to your location, ideally in the same city as you (or, if none are available in your city, in whatever the closest city to you is).
If two test centers are equally far away from you, go for the area you're more familiar with, or the one you think will be easier to get to and from on test day. Trust me, the last thing you'll want to deal with on test day is getting lost in terrible traffic!
If your country or area only offers the paper-delivered GRE and the nearest test center to you is more than 125 miles away, you can arrange to have a supplementary test center established closer to you. To do so, follow the directions on the ETS website. Note that this is not guaranteed.
#2: Are Convenient Times and Dates Available?
If the GRE test center nearest to you is too limited in its dates or times, opt for a test center slightly farther away from you but with more convenient dates and times.
Because the computer-delivered GRE is available so many days throughout the year, you should never feel as if you must rearrange your schedule or sacrifice other obligations in order to take it. Don't feel pressured to skip work or any other commitments you have just to take the GRE at the test center closest to you; it's OK to opt for something a little farther away if it's more convenient for you, time-wise.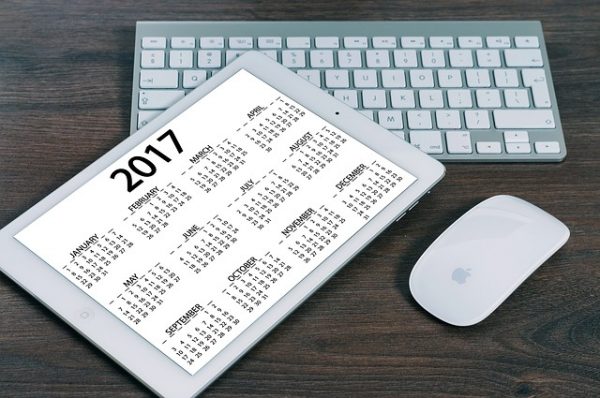 #3: How Will You Get There?
Another critical point to consider before choosing a test center is how you plan to get there.
For those intending to drive themselves, be sure your test center offers ample parking. In addition, try to choose a time that's not directly around rush hour. This means taking care to avoid times in the early morning (when people leave for work) and early evening (when people go home), especially if you're commuting to a larger city for your test.
The best planning you can do ahead of time is a test drive to your potential GRE test center at the same time you'd be taking the test. This way, you'll familiarize yourself with what routes to take as well as how many people will be on the road around that time. You'll also know exactly what the test center looks like on the outside.
In general, it's best to arrive at your test center at least 30 minutes early. In some cases, weather or unforeseen traffic conditions might lengthen your trip, so try to leave as early as possible. As I always say, better to be super early than just five minutes late!
If you intend to take public transportation, on the other hand, choose a test center that's easily accessible by bus or train. Use Google Maps to look for feasible routes.
#4: What Do Test Takers Say About It?
Finally, take a few moments to look for any reviews of your chosen test center.
Here are some major questions you'll want to ask yourself:
Is the test center going to be too hot or too cold?
Is the test center notoriously loud?
Are staff members professional and organized?
Are there tons of complaints about this particular test center?
One easy way to look for reviews of GRE test centers is to search for "Prometric" and your city on Yelp. Occasionally, reviews also address the parking options of certain test centers, which can be helpful if you're undecided about driving.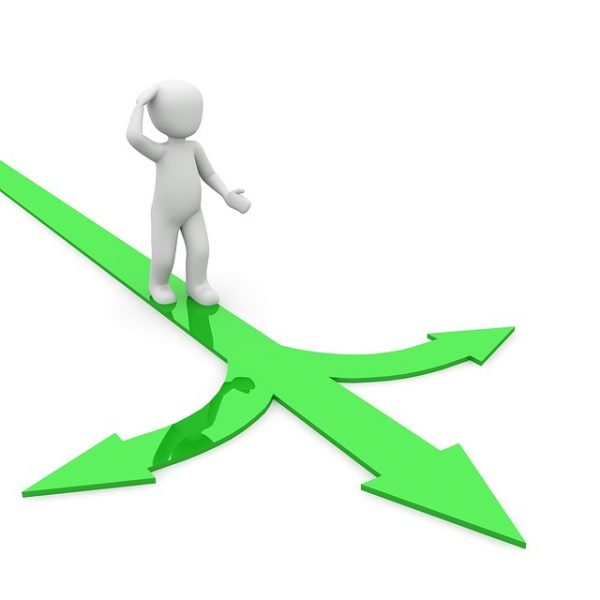 Where to Take the GRE: Final Thoughts
Predominantly offered as a computer-delivered test, the GRE is available year-round at various Prometric test centers around the world. In areas where the computer version is unavailable, test takers can usually opt for the paper-delivered GRE. Be aware, though, that the paper-delivered GRE (and GRE subject tests) are only administered up to three times a year.
To browse possible GRE test locations, log on to your ETS Account and search for test centers and times near your home address or in your city of residence. When it comes to where to take the GRE, ask yourself the following questions:
How close is the test center to you?
Are convenient times and dates available?
How will you get there?
What do test takers say about it?
Overall, only you can decide what GRE test center is right for you. Just be sure you're 100 percent OK with keeping whatever test center and date you choose. Any changes you make to your GRE test center or date will cost you an additional $50 in fees, so always take your time and follow the advice above when selecting a test center.
Last but not least, good luck on test day!
What's Next?
Trying to register for the GRE? Check out our complete guide to get started today!
Need to make changes to your GRE date? Curious about when you should take the GRE? Follow along with our step-by-step instructions and expert advice!
Got questions about the GRE? Learn how much the GRE actually costs and get all of your questions answered in our in-depth GRE FAQ.
Ready to improve your GRE score by 7 points?
We've written a eBook about the top 5 strategies you must be using to have a shot at improving your GRE score. Download it for free now: